Alba Queen; Hotels, located in Çolaklı, a calm and peaceful location in Antalya, welcomes its guests at a seafront location.
In the comfortable rooms of the facility with modern facilities; air conditioning, LCD TV, satellite broadcast, music broadcast, kettle, minibar, balcony and tea and coffee set. In addition to the guests of the facility; It offers wireless internet, free parking, luggage storage, laundry, dry cleaning and 24-hour reception.
For guests who want to relax and get away from stress; There is a spa centre, Turkish bath, sauna and massage treatments. The fully equipped fitness center creates a good alternative for sports enthusiasts. There is also a tennis court at the property. Located in Çolaklı, the facility is 8 km from Side center, 13 km from Manavgat, 55 km from Antalya Airport and 65 km from Antalya city center.
The facility offers its guests tastes from world cuisine. With its rich open buffet and food and beverage facilities, Alba Queen Hotels makes the holiday of its guests more enjoyable. Asia and Fish a la carte restaurants serve within the facility.
The large outdoor swimming pool, surrounded by an aquapark and sun loungers, offers guests the opportunity to spend time full of fun. Guests who want to tan can spend as much time as they wish on comfortable sun loungers.
Gala and seminar organizations are held in the large meeting hall of the facility.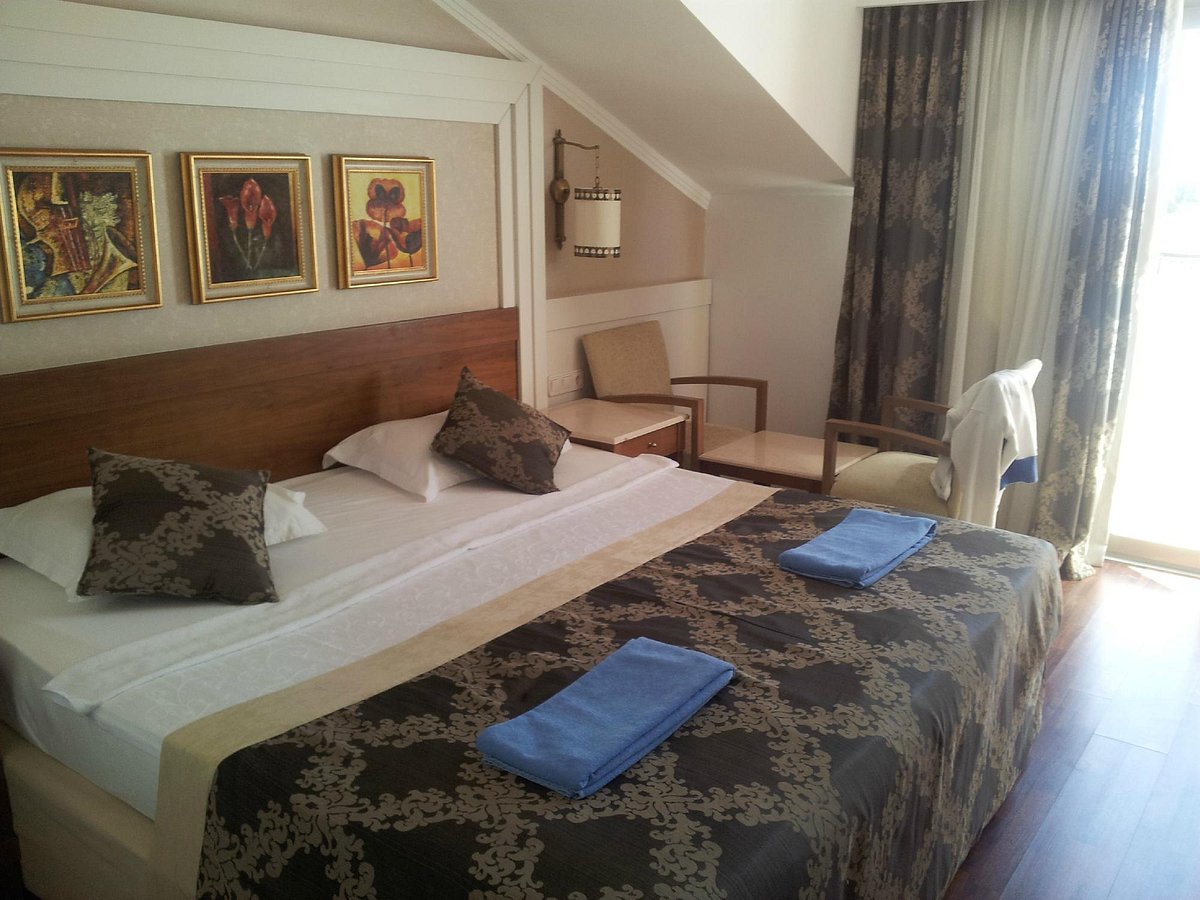 ROOM
Family Room Single Bathroom Rooms are 41 m² in size. Family Rooms with Connecting Doors have a double bed and two separate single beds.
Bathtub
Electronic Key System
Bathroom
Hair dryer
WC
Music Broadcast (from TV)
2 Bedrooms
Family Room with Interconnecting Door
Balcony
Laminate Covered Floor
LCD TV
Smoke detector
Central Air Conditioning
Till*
Mini bar
Telephone*
Satellite Broadcast
Tea and Coffee Set
Cleaning Service
Kettle
Wireless Internet*
Room service*
Features marked with * are paid.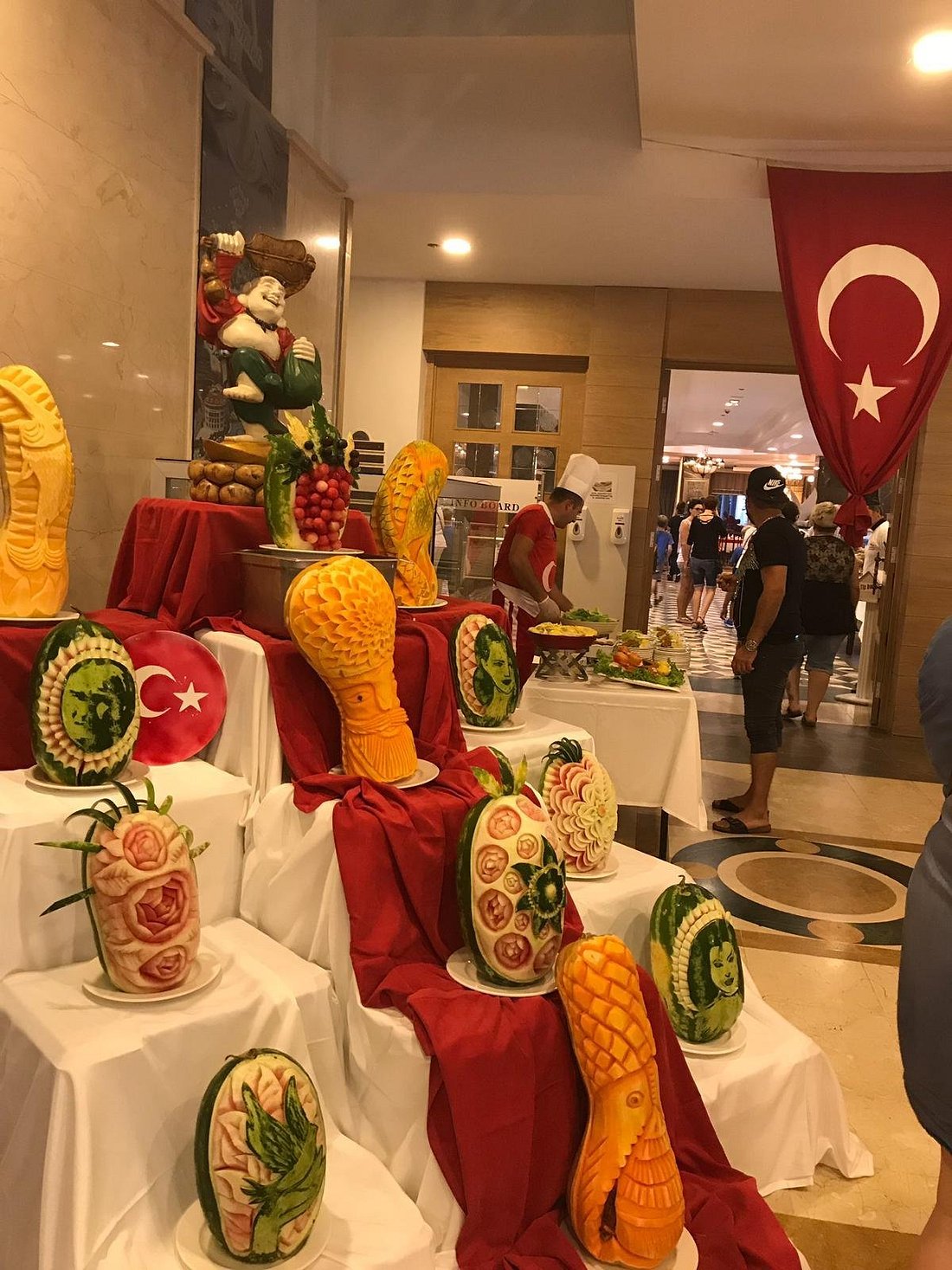 EATING AND DRINKING
Breakfast, lunch and dinner buffet meals are free. Some local alcoholic and non-alcoholic drinks within the brands determined by the facility are free of charge for 24 hours in the open bar.
A la carte restaurants with reservation and once free for 1-week stays. The minibar is filled daily with soft drinks. Imported drinks, freshly squeezed fruit juices and bottled wine are chargeable.
Disco; It serves between 23.00 – 01.00 hours within the concept. Entry to the disco and drinks included in the concept are free.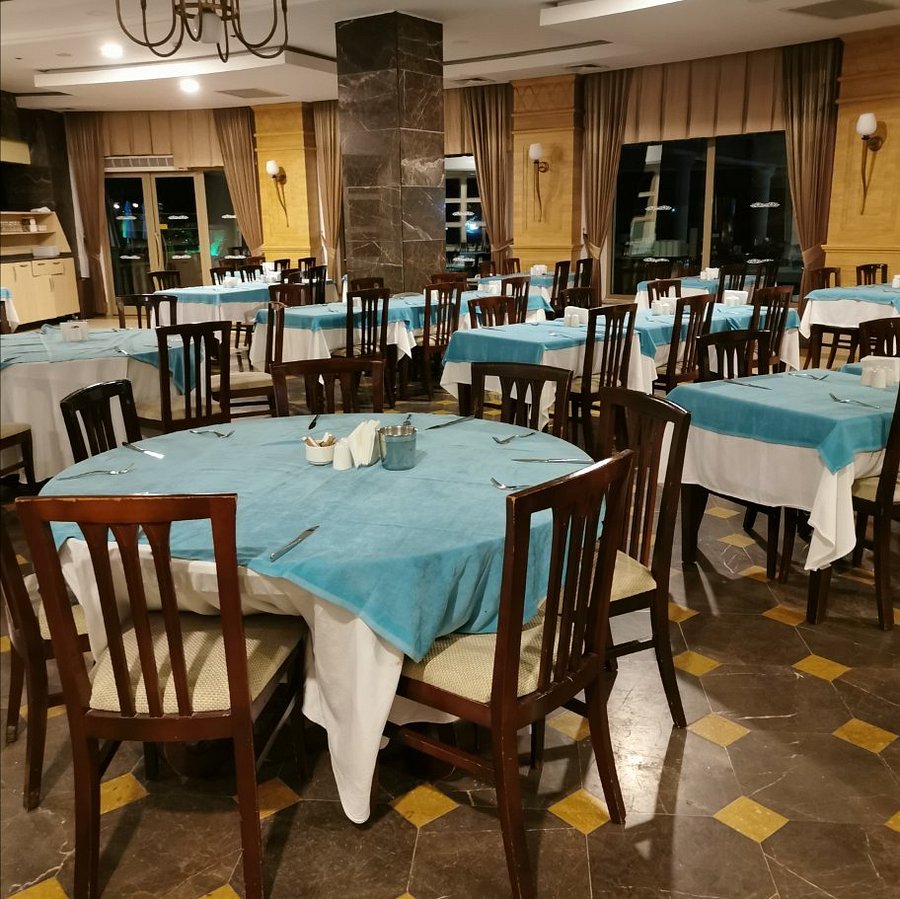 Restaurants
Queen's Fish A la Carte Restaurant
Queen's Asia A la Carte Restaurant
SERVİCE HOURS
07.00 – 10.00 Breakfast
10.00 – 10.30 Late Breakfast
11.00 – 17.30 Snacks Queens Pool Bar
12.00 – 16.00 Pancakes – Cake Service
12.00 – 16.00 Snack Service Queens Beach Bar; Cake Service Queens Beach Bar
12.30 – 14.00 Lunch
16.00 – 17.30 Pastry Service
14.00 – 16.00 Waffles
19.00 – 21.00 Dinner
19.00 – 21.00 A La Carte Restaurants
23.30 – 06.00 Night Snack
24 Hours Room Service (Paid)
Beverage Service:
10.00-24.00 Queens Lobby Bar
10.00-17.30 Queen Beach Bar
10.00 -18.00 Sunset Beverage Corner
23.00-01.00 Disco
24 Hour Queens Pool Bar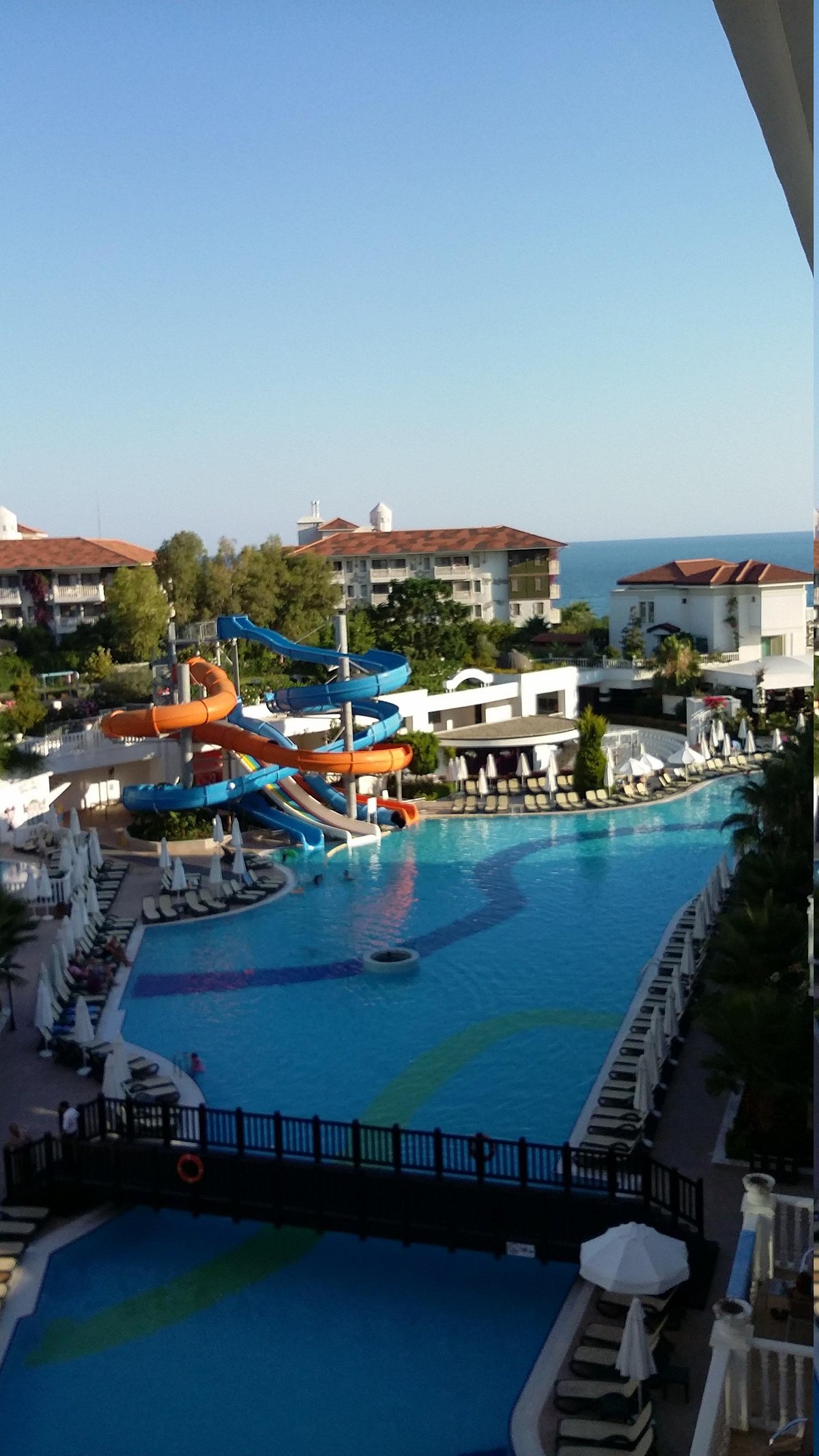 Beach
The facility, which is located by the sea, has a private, blue flag fine sand beach.
There is a walking path between the beach and the hotel. At the beach and by the pool; Sun umbrellas, sun loungers and towels are free of charge.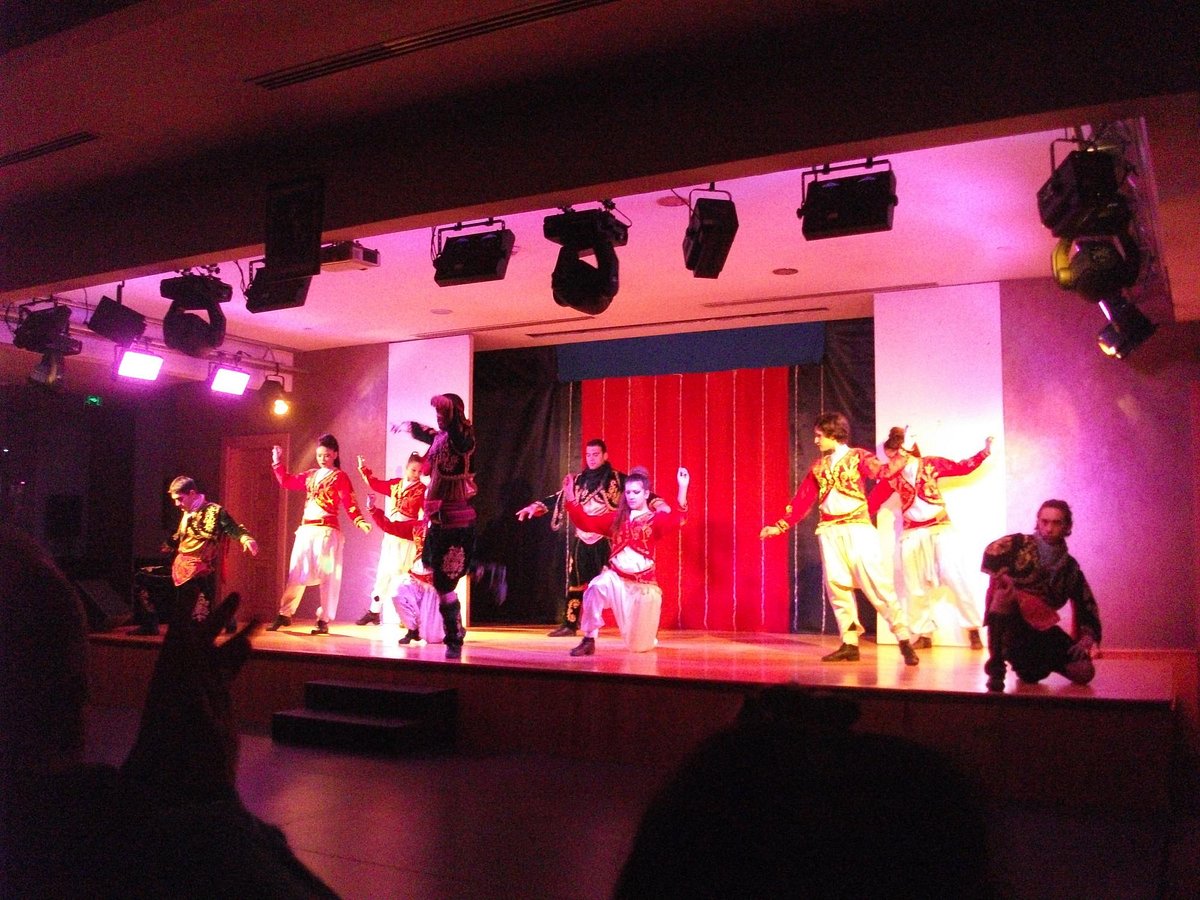 Sport
Sports activities during the day, pool games; evening shows, and some evenings live music and after-show activities. There is a children's pool with 1 mini-slide and 4 pools with water slides, which are available at certain hours.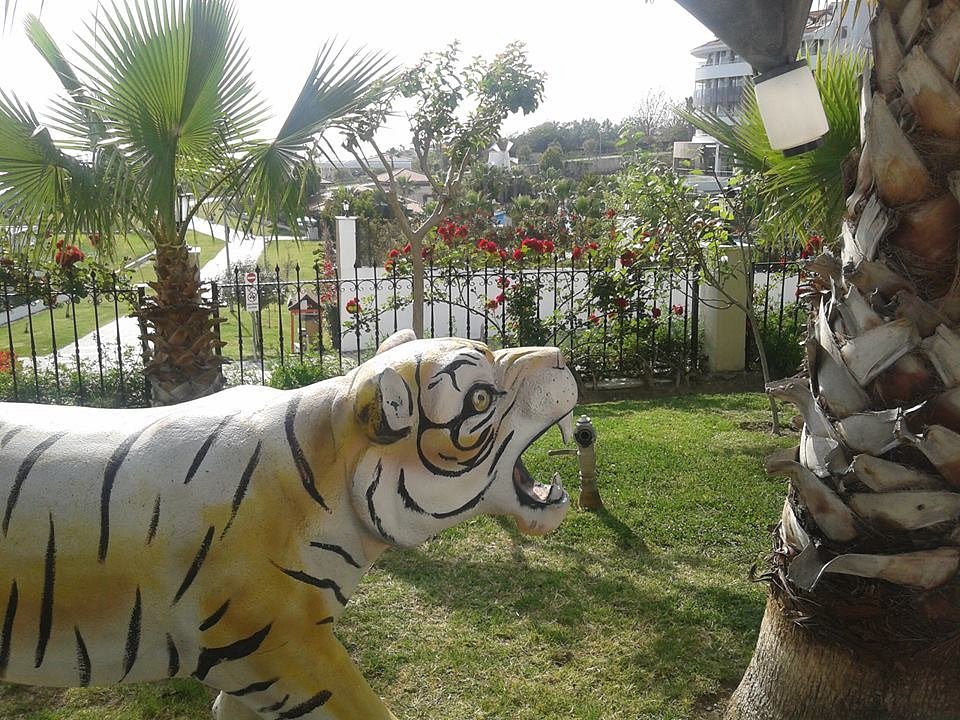 KIDS / BABY
There is a mini club for children between the ages of 4 and 12. Children's buffet at the main restaurant dinner, Baby corner in the main restaurant (microwave oven, sterilizer, baby chair)
Mini club Mini disco between 20.30 and 21.15 six days a week It serves six days a week from 10.00-12.00 and 14.30-17.00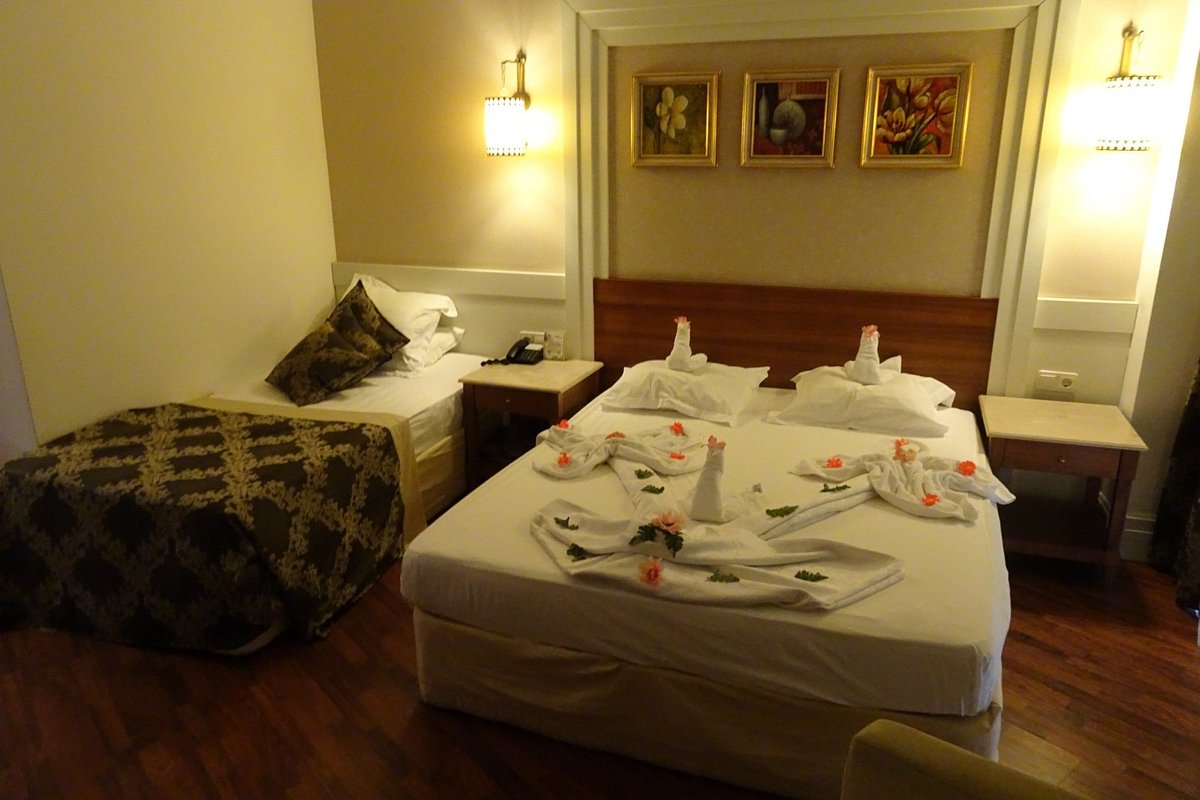 Honeymoon
Romantic dinner (1 time)
Breakfast in the room (1 time)
VIP Set-Up to the Room (Fruit Basket, Wine 75 cl)
Room decoration (1 time)
Wedding Anniversary Treats;
Romantic dinner (1 time)
Breakfast in the room (1 time)
SPA & WELLNESS
In the SPA and wellness section of the facility; There are facilities such as sauna and massage service.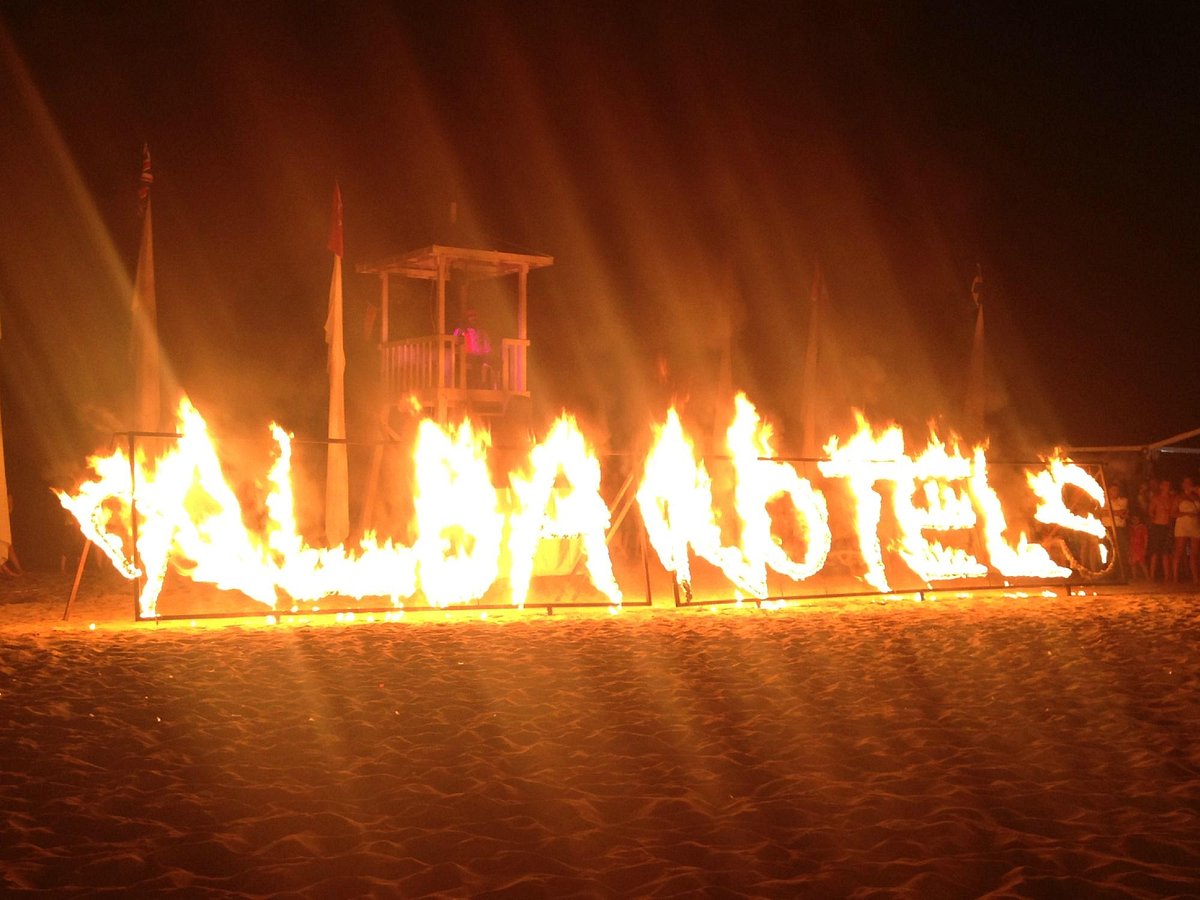 Important informations
The central air conditioning system of the facility is operated according to the weather conditions. Wireless internet is free in the lobby, on the beach and in public areas, paid in the rooms.
Couples who want to take advantage of the honeymoon package must show their marriage certificate at check-in for their stays within one month from the date of marriage.
Access to the facility rooms starts from 14:00. Check-out time from the rooms is 12:00 at the latest. Pets are not accepted at the property. The use of some of the open areas serving at the facility may be limited depending on seasonal conditions.
All Inclusive accommodation provided at the property starts with dinner, includes dinner for the number of nights stayed, and ends with lunch on the day of departure.
If the room to be accommodated is a special type of room such as a family room, a suite room (and so on), no refund will be made if any of the guests leaving the facility early.