Club Paradiso is located at a height directly overlooking the Mediterranean coast, the Taurus Mountains and the historical Alanya Castle. Club Paradiso; It has a central hotel building, luxury family suites and penthouse duplexes. With its apartments of 54 to 96 m2, it offers you the largest venues on the beaches of Alanya, as well as a perfect holiday environment for families who attach importance to a well-kept facility, quality interior equipment and special service understanding. It is possible to organize conferences and celebrate your special days in the meeting room.
For your comfort and satisfaction, bars and snack restaurants are at your service with national and international dishes. There is a regular free minibus service between the hotel and the beach with a bar and snack restaurant, 900m away, departing every 30 minutes. There are bus services several times a day from the hotel to Alanya city center, which is 7 km away, for a symbolic fee.
ROOM
Main building and ground floor rooms are standard rooms with
shower,
WC,
Hair dryer, Air conditioning,
Telephone,
Cable TV with music channel,
Minibar (filled with 1 free bottle of water per day),
safe,
kettle,
coffee + tea set, room floors are laminate or tile, rooms have balconies or terraces.
Superior Room (Family Suite A) (54m2): Upper floor suites, living room with sofa bed or extra bed, 1 separate bedroom, balcony, all other features are as in the standard room.
Family room type B (Family Suite B): It is a superior room (family suite A). It is approximately 60 m2 in size and 1 bedroom is additional.
Family room type C (Family Suite C): Family suite is A feature. It is approximately 63 m2 in size and has 2 additional bedrooms.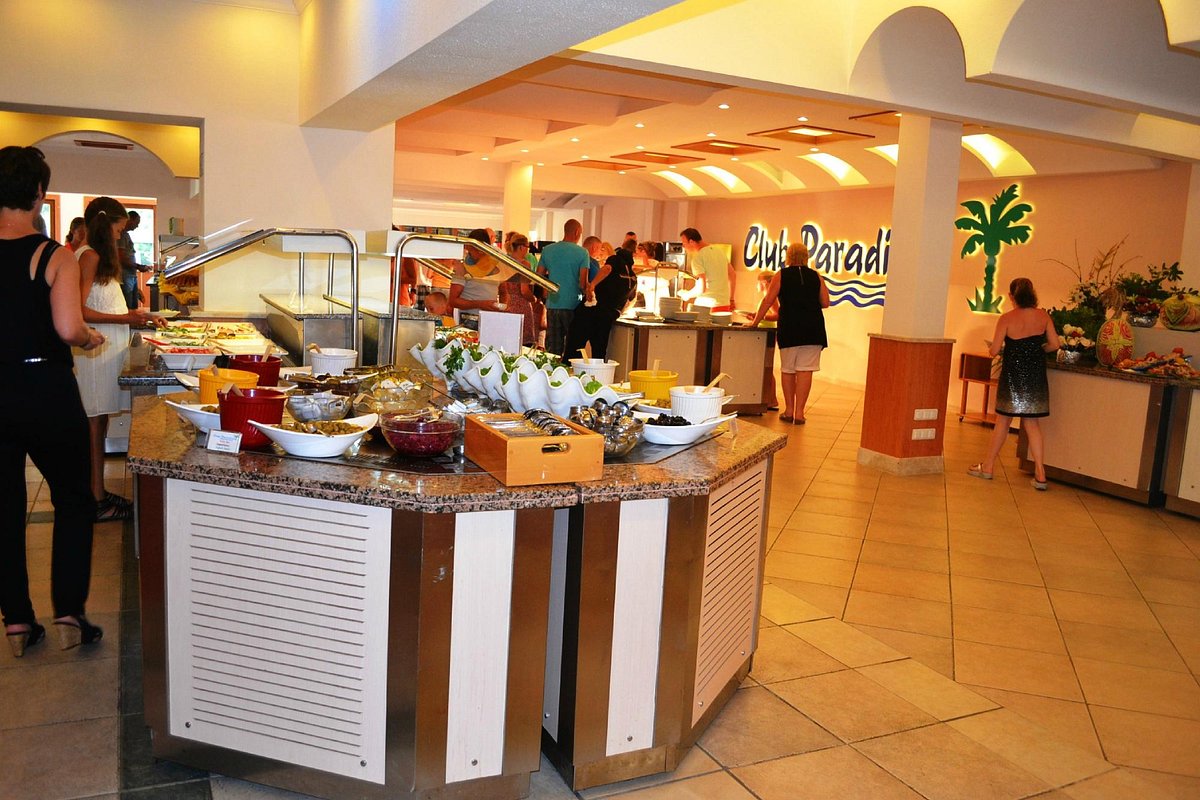 EATING AND DRINKING
24 hours all-inclusive concept; Breakfast, Lunch and Dinner, Snack Service, Night Buffet, 24 hours free alcoholic and non-alcoholic local beverage service is offered in open buffet.
Breakfast, Lunch and Dinner are served from the open buffet by the staff in accordance with legal obligations.
Main Restaurants are organized in accordance with social distance rules.
Our children's buffet, diet buffet and food preparation areas in the main restaurant cannot serve during the pandemic. It is prepared individually according to your request. You can request it from the service personnel.
Baby chairs are available in the Main Restaurant.
All drinks are served to the table.
Premium drinks are served for a fee. * (Alcoholic drinks are not served to those under 18 years old.)
According to the law numbered 4207 on the use of tobacco and tobacco products, tobacco and tobacco products, electronic cigarettes cannot be smoked indoors.
Depending on the season, weather and pandemic conditions, the presentations may be reduced and/or the service hours may be changed by the management.
SERVİCE HOURS
24 Hours All Inclusive Main Restaurant
Morning Breakfast 07:00-10:00
Late Breakfast 10:00-11:00
Lunch 12:30-14:00
Dinner 18:30-21:00
Night Snack 00:00-07:00
Snack Bars
Snack Bar 12:30-16:30
Beach Bar 12:30-16:30
Patisserie 10:00-18:30
My Kumpir 12:30-18:00
Ice cream
14:30-18:00
A La Carte Restaurants
Barbecue A La Carte 19:30-21:00
Fish A La Carte 19:30-21:00
bars
Moonlight Bar 12:30-14:00
Moonlight Bar 18:30-21:00
Sunset Bar 09:00-00:00
Mont Blanc Bar 10:00-18:00
Tankstelle Bar 18:00-02:00
Beach Bar 10:00-18:00
Villa Bar 10:00-18:00
Disco Bar 23:30-02:00
Niagara Bar 10:00-18:00
Niagara Bar 21:00-07:00
Activities
Free Services
Sunbeds and Umbrellas
Ice cream
Turkish coffee
Live Music (1 per week)
Children's Water Playground
Animation Program
Beach Transportation Service
Baby Bed
Paid Services
Wireless and Internet (Free only in the Lobby, paid in other areas)
Baby sitter
Baby Monitor
The stroller
Bike
Laundry Service
Room service
Mini bar
Disco
Freshly Squeezed Juices
Import drinks
Safety Deposit Box
Internet cafe
Hairdresser
Doctor Services
Rent a car
Telephone
Fax / Photocopy
Beach Towel Change
Towel Change (1€)
City Shuttle (1€)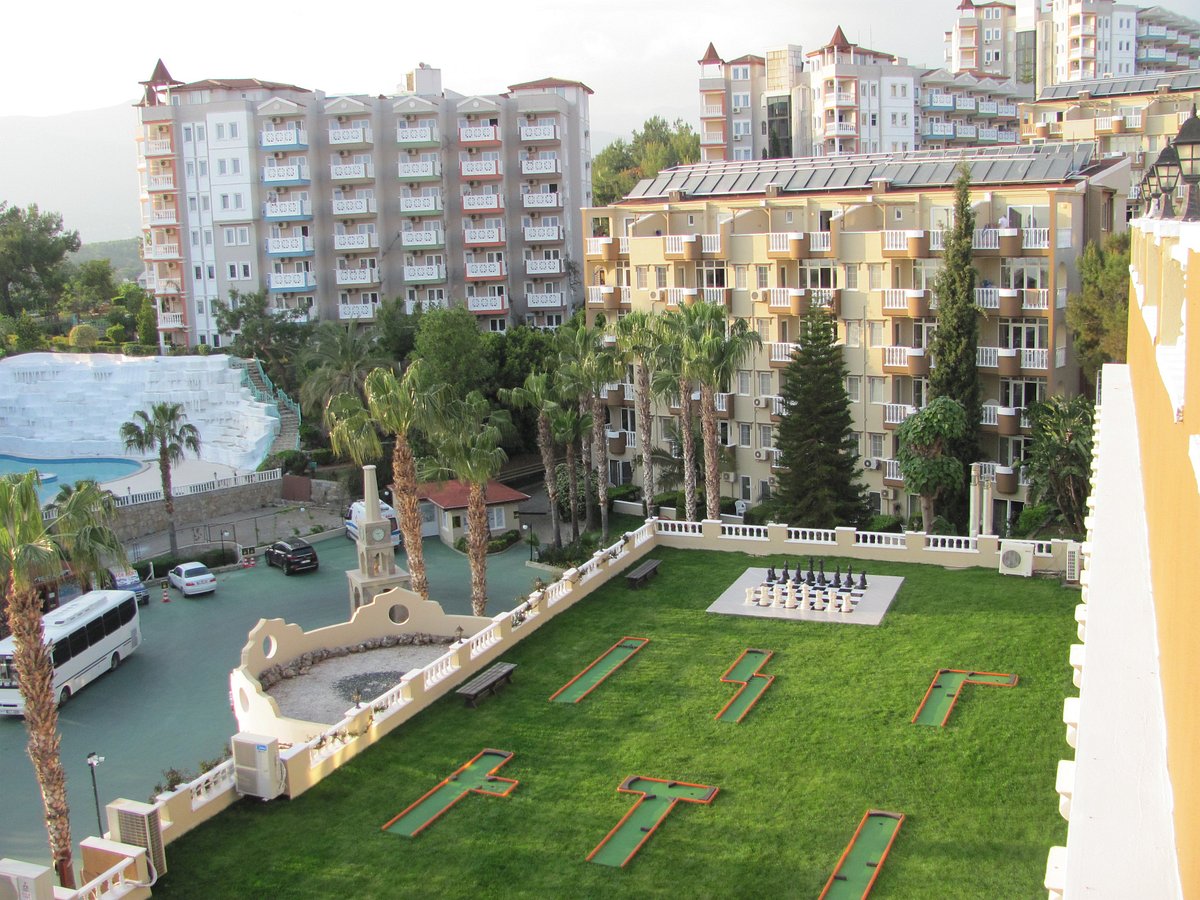 Sports and Activities
Sports and Activities 10:00-12:30/14:30-17:00
Fitness 08:00-19:00 with reservation (Free)
Tennis 08:00-22:00 with reservation (Lighting Charged)
Table Tennis 09:00-17:00
Mini Golf 10:00-17:00
Beach Volleyball 10:00-18:00
Billiards 18:00-02:00
Darts 10:00-23:00
Foosball 10:00-18:00 (Paid)
Canoe and Sea Bike 10:00-18:00 with deposit
Playstation 10:00-23:00 (Paid)
Water Sports 10:00-17:00 (Paid)

Mini Club
Mini Club 04-12 // 10:00-12:30/14:30-17:00
Teenager Club 12-16 // 10:00-12:30/14:30-17:00
Mini Disco 20:30
Wireless Internet
The internet is free in the lobby, and in other areas, for a fee.
Animation & Entertainment
Sports Tournaments,
Pool Games,
Sketches and Show Animations in the evenings,
Live Music on some days,
Daytime Animation,
Disco are all prepared to entertain you.
Internet Cafe and Computer Games,
Arcade.
Basketball,
Beach Volleyball,
Water Gymnastics,
Mini Golf,
Table Tennis,
Darts,
Various Tournaments,
Competitions,
Pool Games.
SPA / WELLNESS
Paid Services
Doctor Fish
Pouch
Torn
Beauty Center
Massage
Free Services
Bath
Sauna
Salt Room
Jacuzzi
Steam room
Indoor pool
Important informations
No Pets Allowed
It is obligatory for the guests of the facility to wear the Armbands given at the entrance during all their holidays.
Card key system is used in hotel rooms.
Bars, Beach, Aquapark and A'la Carte Restaurants are opened at the beginning and end of the season, depending on the weather conditions.
Except for A'la Carte Restaurants, food is self-service in all other presentation areas, drinks will be served to the table by our staff.
Pets are not allowed at the property
There may be changes in all services and services specified during the pandemic period.
In all specified services and services; may vary according to season and weather conditions.
"The hotel reserves the right to make changes on the concept due to changing operating conditions."
In some of the facilities that serve all year round; Summer Concept is applied for stays between 21/04 – 05/11. You can get detailed concept information or information about paid or free services from our offices, catalogs or sales consultants.
In order for our guests to have a healthy holiday, the concept content to be implemented by the facilities during the season may be closed or limited by the facility management within the scope of the Covid-19 measures taken by the facilities and in line with the circulars determined by the Ministry of Culture and Tourism.