Crystal Family Resort Spa, built in 2007, is located in Antalya, Belek region: Crystal Family Resort Spa, which was established on an area of ​​23000 m2, serves our guests with the ultimate all-inclusive concept.
Crystal Family Resort Spa attracts attention with its seafront location: You can enjoy the sea on its 150 m long beach. The facility offers special services to its guests with 6 ala carte restaurants, 5 outdoor restaurants and 2 indoor restaurants.
You can have a pleasant holiday with 5 outdoor and 2 indoor swimming pools. For those who prefer sports and entertainment on holiday, there are banana, pedalo, jetski, canoe and surfing activities. During your holiday, you can spend your time with activities such as surfing.
You can have a pleasant time playing football, billiards, tennis, bowling and golf. You can relax and feel refreshed by taking advantage of the spa and massage services within the facility.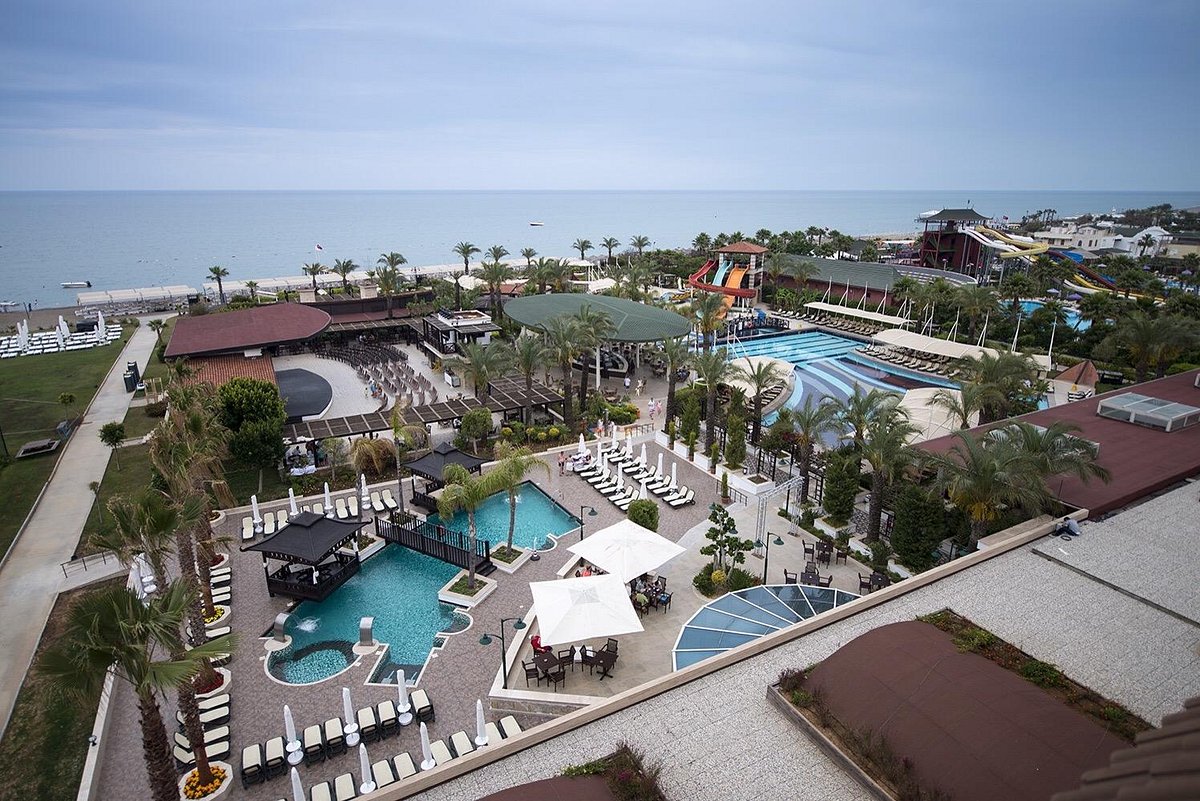 According to your needs, you can use the doctor, photographer; beauty salon, hairdresser, market, car rental services in the facility. There is a bar at the property for you to have a pleasant time. The hotel is 40 km from Antalya Airport and 50 km from the city center.
Crystal Family Resort & Spa, located in Bogazkent, the holiday paradise of Antalya; promises an unforgettable holiday to its guests with its world-class quality. Located at the seafront, the property has a private beach area mixed with sand and pebbles.
In the modern decorated, spacious and comfortable rooms of the facility; air conditioning, balcony, minibar, LED TV, satellite broadcasting and room service. Free private parking, paid car rental and paid dry cleaning service are available at the property.
ROOM
Single Bed, Double Bed 27 m2
There are 284 pieces. We have (15 plug-in rooms, 20 rooms with bunk beds; 3 special rooms for our disabled guests and rooms for our non-smoking guests.) All of our rooms have balconies. Maximum capacity can accommodate 3 people (Standard rooms with bunk beds can accommodate maximum 2 adults and 2 children.)
Minibars are filled daily with Soft Drinks. GENERAL ROOM EQUIPMENT AND EQUIPMENTCentral Air Conditioning Case Suitable for LaptopsSatellite TV and Music Broadcasting MinibarFloor CarpetDirect TelephoneCard Lock SystemFire ​​Alarm SystemWireless Internet ConnectionTelephoneShowerFront Balcony
Minibar Bedroom Bathroom Magnetic Door Makeup Mirror Air Conditioner Satellite TV Hair Dryer Electronic Safe Telephone Balcony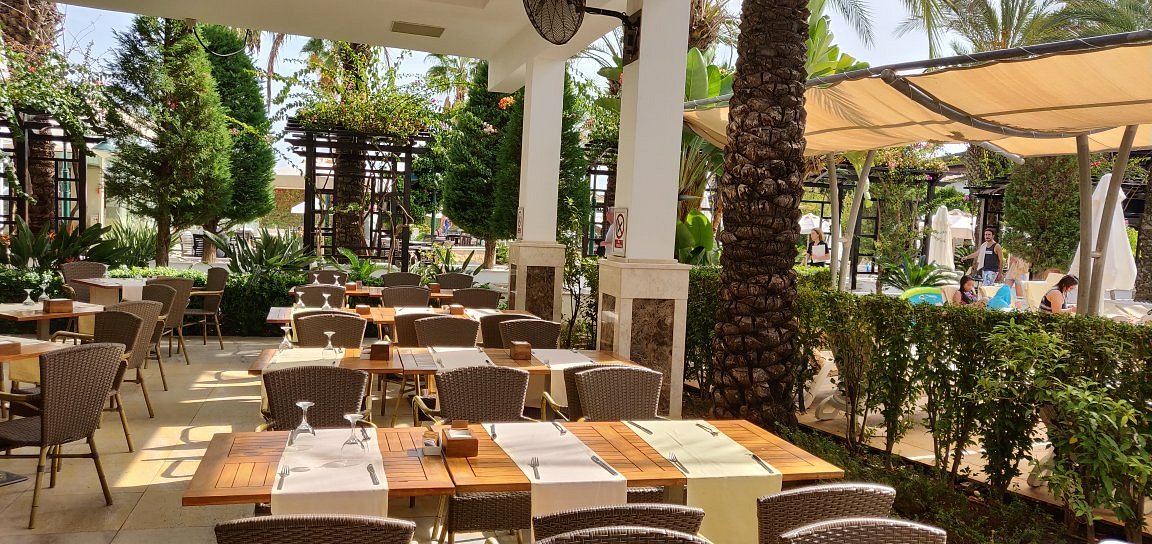 EATING AND DRINKING
Breakfast, lunch and dinner buffet meals are free. Within the brands determined by the hotel; local alcoholic and non-alcoholic drinks are free for 24 hours, some foreign drinks are free between 10.00-01.00; and all foreign drinks are paid between 01.00-10.00. The minibar is filled with soft drinks every day.
A la carte restaurants will only serve at dinner; and for stays of 7 nights or more, with a reservation and free of charge (except Halikarnas Restaurant). Halikarnas A la Carte Restaurant with reservation and charge.
Guests staying at the facility must stay 3 nights or more in order to benefit from the a la carte restaurants. In a la carte uses; double seating arrangement is used and guests obtain the right to use by making reservations according to the time zones they will receive service. A la carte restaurants serve as 18.30-20.00 first session and 20.00-21.30 second session.
There is a vegan and diet buffet at the facility; and it serves during service hours. Guests with sugar and gluten disorders are introduced to the kitchen managers and suitable products are offered for them.
All bottled foreign wines and champagnes, premium alcoholic beverages are chargeable.
Coverage fee is charged in some Ala Carte restaurants.
During the stay; only one is free of charge once for a minimum stay of 3 nights.
SERVİCE HOURS
07.00-11.00 Breakfast
12.30-14.30 Lunch
12.00-13.00 Lunch Children's Buffet
18.30-21.30 Dinner
18.00-19.00 Dinner Kids Buffet
21.30-07.00 Late Snack
Snack Bars
11.00-18.00 Pancake House
11.00-18.00 Caretta Snack
11.00-23.00 Patisserie
10.00-18.00 Caretta Bar Snack
bars
10.00-00.00 Lobby Lounge
10.00-18.00 Caretta Beach Bar
10.00-22.00 Detox Bar
10.00-00.00 Beer House
23.00-02.00 Disco Bar
24 Hour Open Pool Bar
A La Carte Restaurants (19.00 – 21.30 Charged)
-Venezia Italian A labCarte
-Istanbul Turkish A la Carte
-Halikarnas Mediterranean A la Carte
-Mexico A la Carte
*Alcoholic drinks are not served as bottles, bottled or canned drinks are chargeable.
*Imported drinks are charged between 01:00 and 10:00.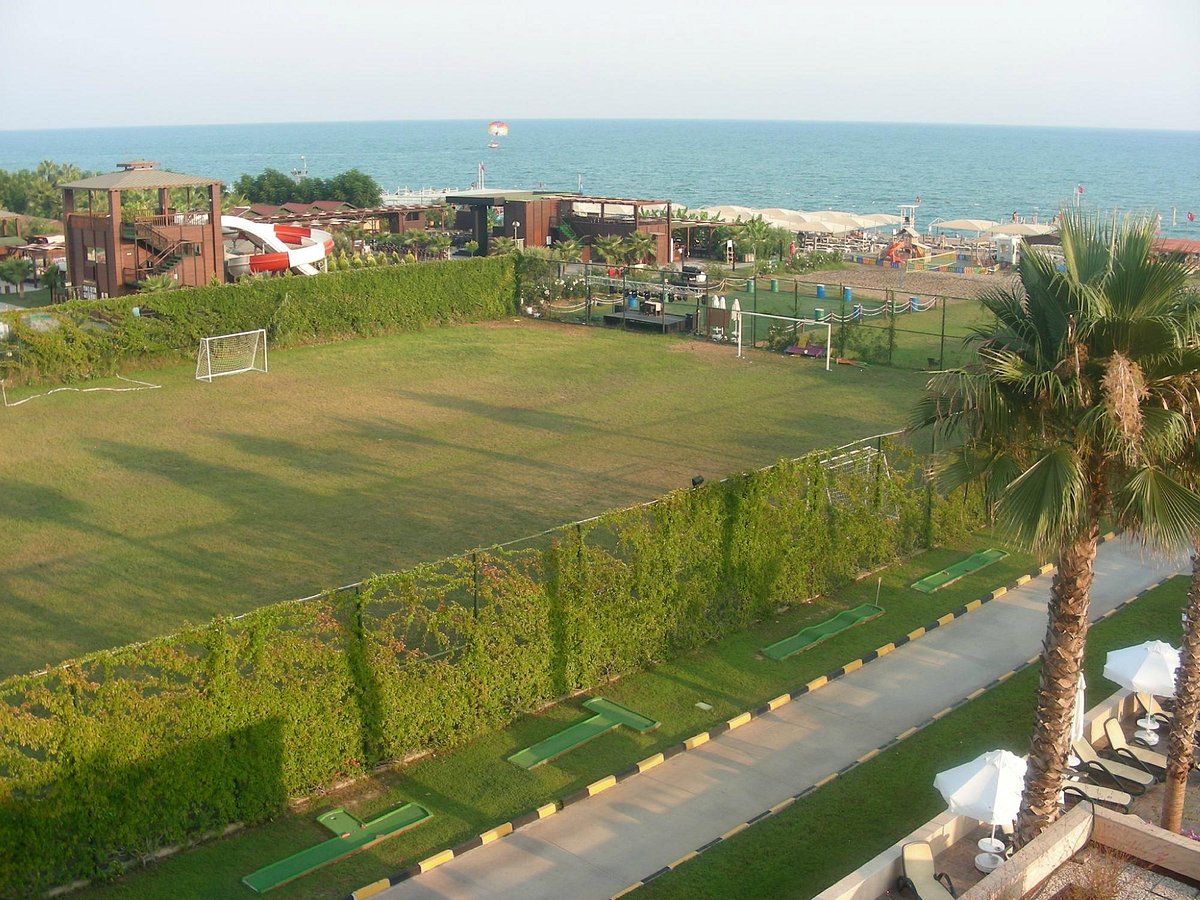 ACTIVITY
PAID SERVICES
Room service
Halicarnassus Mediterranean A' la Carte Restaurant
FREE SERVICES
(Istanbul Turkish A La Carte, Venezia Italian A La Carte) A La Carte Restaurants (once)
Patisserie, Lobby Lounge, Caretta Beach Bar
Pool Bar, Disco Bar,
Cafe Turca,
Mini bar (checked once a day to make up for the missing drinks)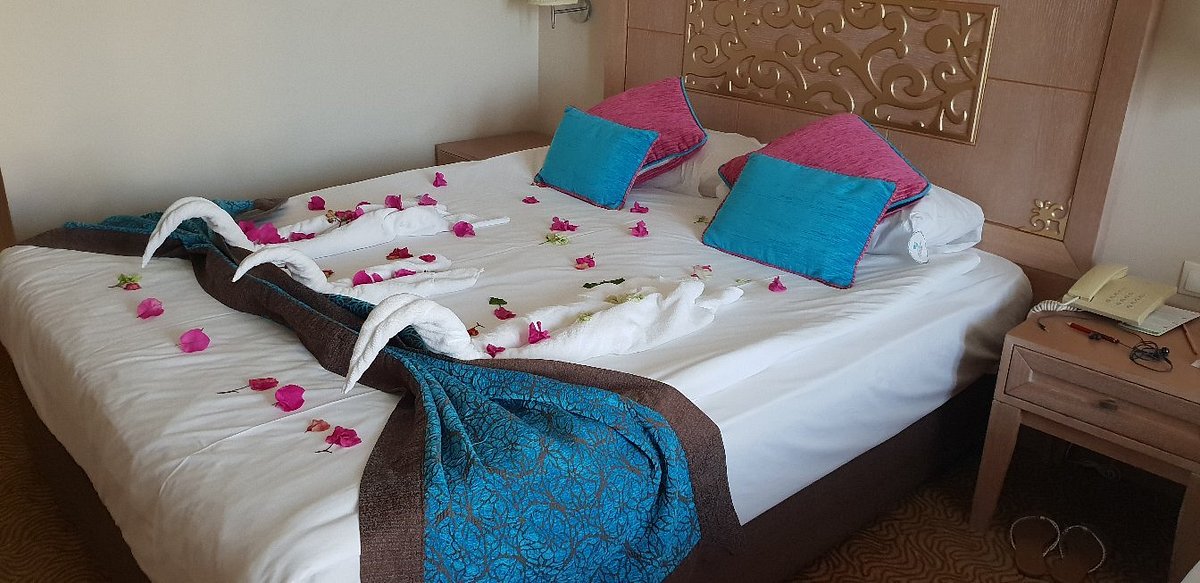 Honeymoon
Room upgrade based on availability to standard rooms
Newspaper service to the room for 1 day
Breakfast with freshly squeezed juice
1 free use of a la carte restaurants, subject to availability
bouquet of flowers
room decoration
Special design sweet box
Champagne in special rooms
Standard rooms; wine, cookie plate, tea-coffee setup, body lotion, bathrobe, tooth and shaving kit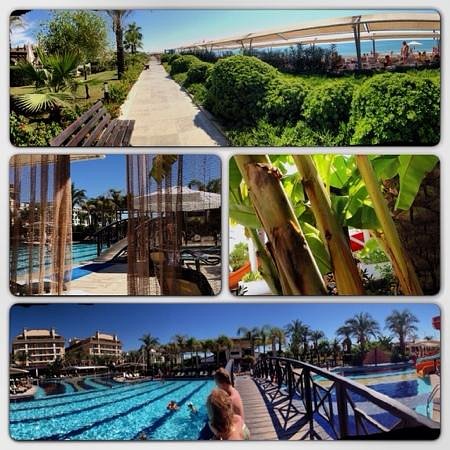 BEACH AND POOL
The facility is located by the sea. Sunbeds;
mattresses, canopies; towels (with towel card against deposit) are free of charge at the pool and on the beach.
The facility has its own 150 m private beach.
POOLS
Main Pool 145 cm – 900 m²
Aquapark (Child) 60 cm – 80 m²
Aquapark (Adult) 110 cm – 130 m²
Children's Pool 30 cm – 45 m²
Indoor Pool 145 cm – 110 m²
Indoor Pool (Child) 30 cm – 15 m²
Spa Pool 140 cm – 60 m²
There is no heating in the indoor pool between 01.April-31.October.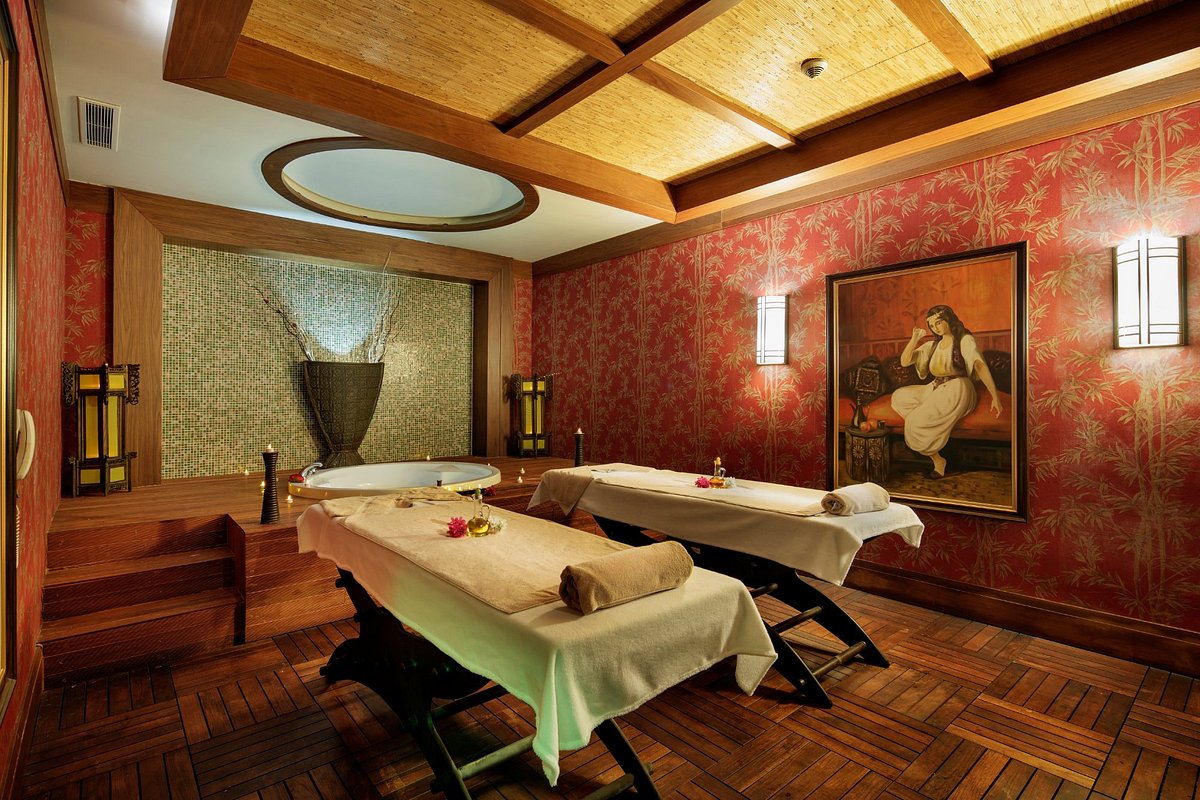 SPA & WELLNESS
REST YOUR SOUL AND BODY
Spa Health and Beauty Center offers you the opportunity; to spend a unique holiday with its skin and body care treatments private jet showers; relax beds with jacuzzi and private jacuzzi. In addition to the SPA center in our hotel; we also have Turkish bath, sauna, steam room and hairdresser services.