Cullinan Belek; Guests of the property are greeted with a small gift in their room. Balcony or terrace is standard equipment of most rooms.
The sea view adds to the ambiance of most of the accommodations. Rooms with carpeted floors are equipped with a double bed, queen bed, king bed or sofa bed. There are separate bedrooms. Children's beds are available on request. In addition, there is a room safe and a mini bar. Cooker and tea/coffee maker are nice details during the stay. An ironing kit is available for added comfort to passengers. Telephone, television, radio, socket adapter and wireless internet connection offer complete holiday comfort.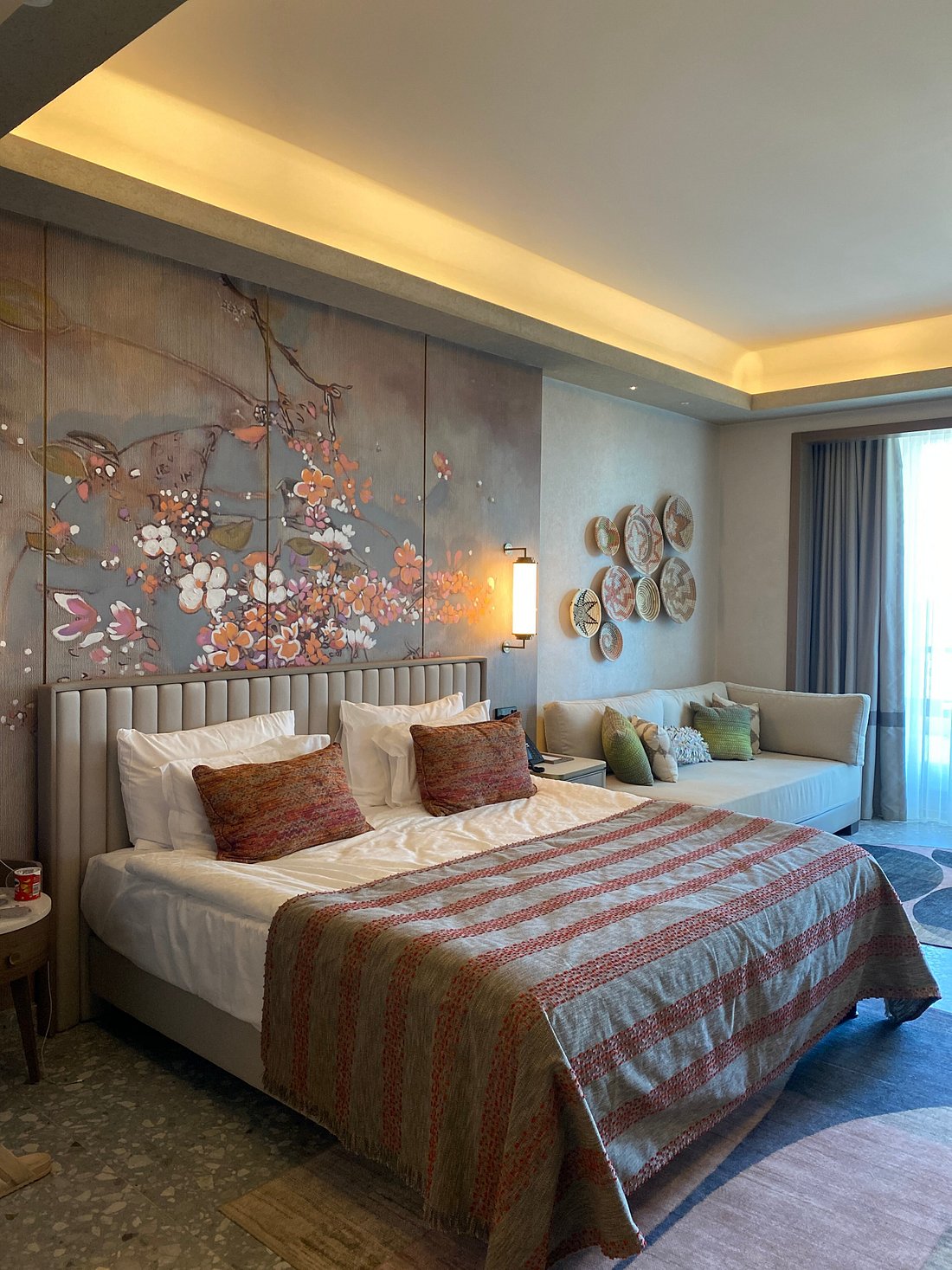 Grand Family Room
Cullinan Belek;
Grand Family Rooms are 103 m² in size. There is a double bed (200 x 200 cm in size) in the rooms. It consists of 1 bedroom + 1 living room.
Study desk
Mini bar
Shower (2 units)
LCD TV
Iron
Boucle Bath Products
WC (2 units)
Balcony
Till
Ironing table
Kettle
Wireless Internet
Tea-Coffee Set
Hair dryer
Pillow Menu
Telephone*
Features marked with * are paid.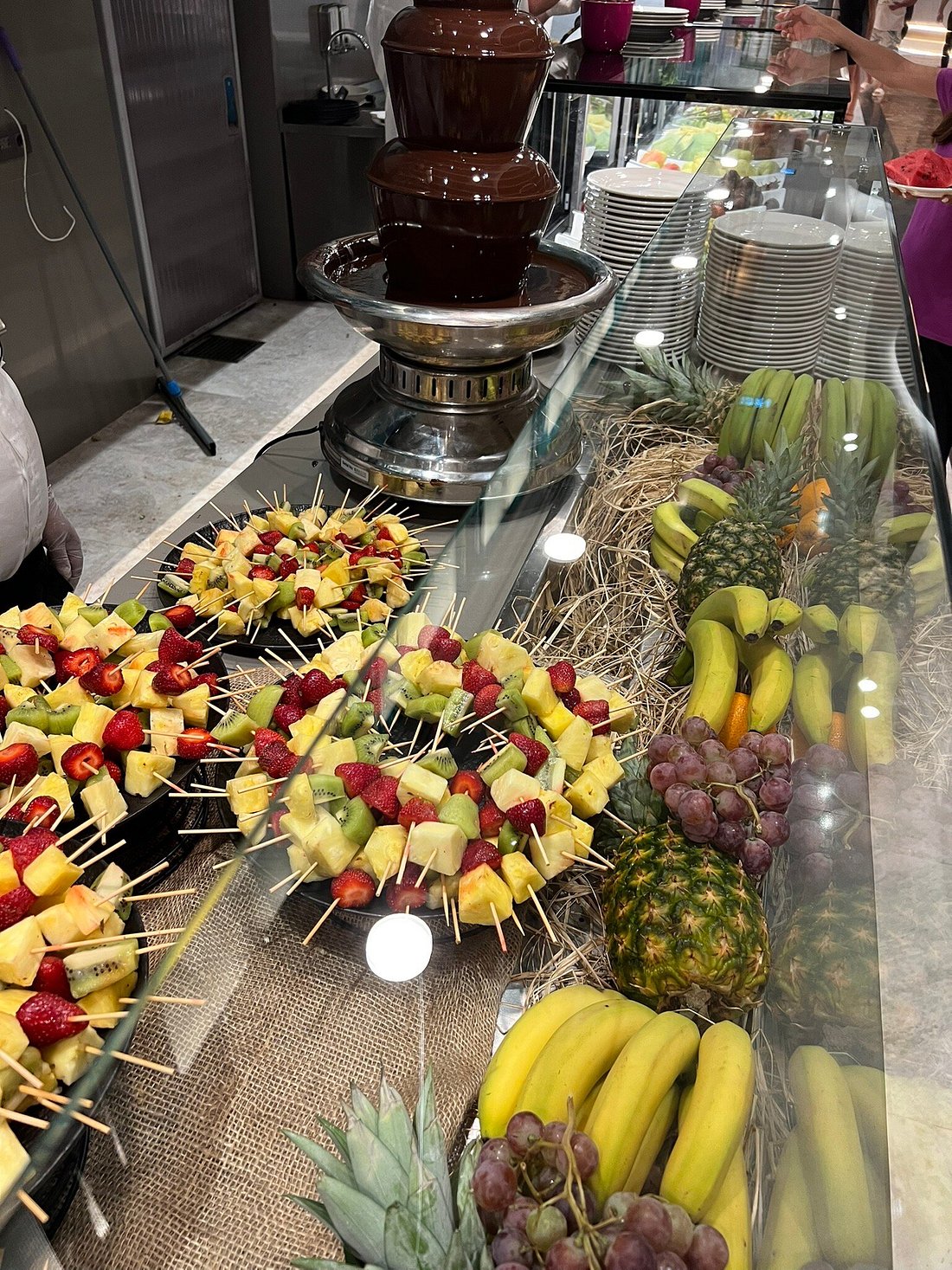 Eating and Drinking
Open buffet meals in the morning, lunch and evening are free. Local alcoholic, non-alcoholic and some foreign drinks determined by the facility are free of charge for 24 hours in the lobby bar located in the main building. Within the concept, freshly squeezed orange juice is served at breakfast, hot and cold drinks are served to the table.1 Ala carte free (7/24) 6 A la carte restaurants with reservation and charge
Minibar every day Beer (4 pcs), White Wine (75 cl), Cola (2 pcs), Cola -Zero, Sprite (2 pcs) Fanta (2 pcs), Ice Tea(2 pcs), Fruit Juice (4 pcs) , chocolate milk, hot beverage options Tea & Coffee varieties / 2 Water, 2 Soda, Salted Biscuits, Chips, Snickers, Chocolate Wafers, Cookies, Crackers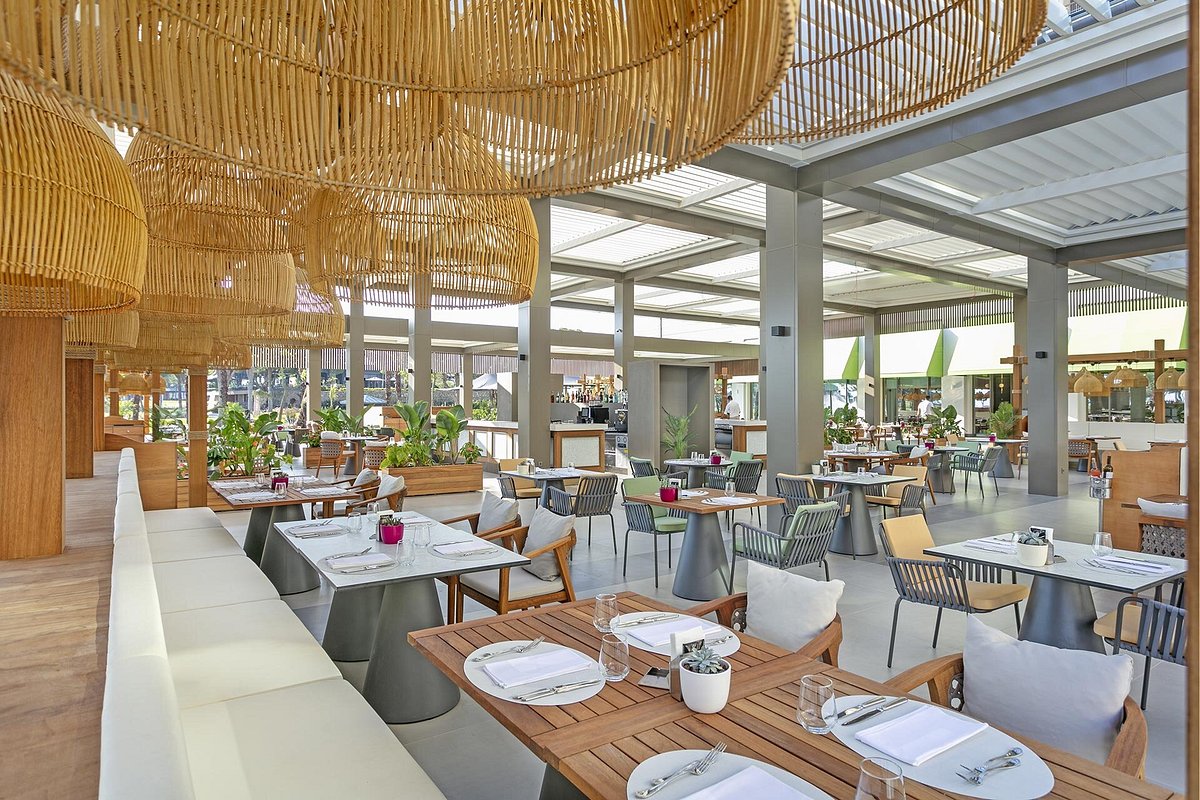 Restaurants
Asian Breeze (Teppanyaki) A'la Carte Restaurant (Paid)
Sapore A la Carte Restaurant (Paid)
Hasır A la Carte Restaurant (Paid)
Steak House A la Carte Restaurant (Paid)
Pascarella A la Carte Restaurant (Paid)
Yamas A la Carte Restaurant (Greek Cuisine)(Paid)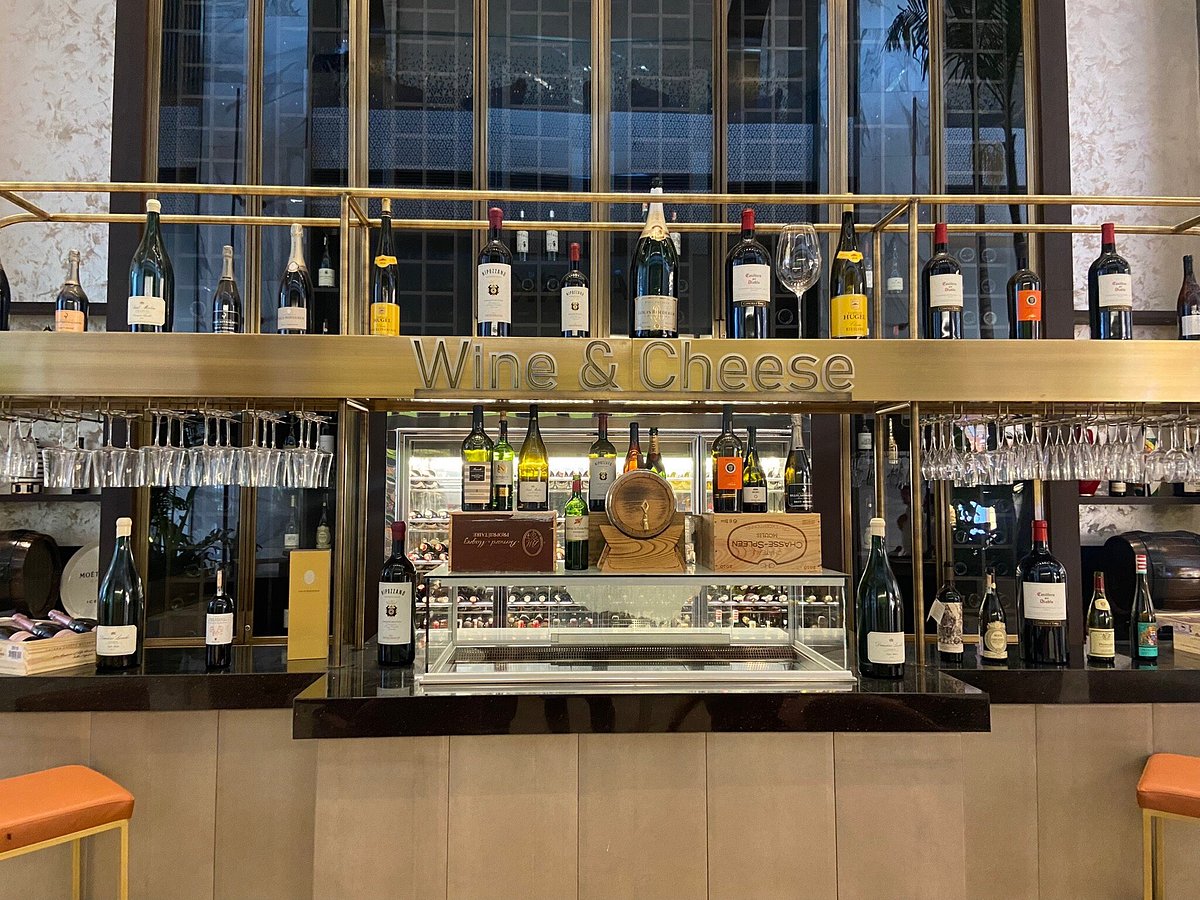 Service Hours
08.00-10.30 Breakfast
08.00-11.00 Yamas Snack Restaurant Breakfast (paid)
08.00-11.00 Lagoon Restaurant Free for Lagoon Golf and Lagoon Beach Guests
11.30-14.30 Lunch Upupa Kids Club Restaurant
12.30-14.30 Lunch
12.30-14.30 Yamas Lunch Restaurant
12.00-17.00 Hasır Lunch & A la Carte Restaurant
12.30-16.00 Sapore Lunch & A la Carte Restaurant
16.00-17.30 Dessert – Cake Time Upupa Kids Club Restaurant
18.30-20.30 Dinner Upupa Kids Club Restaurant
18.30-21.15 Dinner
19.30-21.30 Beef Grill Club A la Carte Restaurant (Paid); Asian Breeze (Teppanyaki) A la Carte Restaurant (Paid)
19.30-21.30 Pascarella A la Carte Restaurant (Paid) (Italian Cuisine); Hasır A la Carte Restaurant (Paid) (Turkish Cuisine)
19.30-21.30 Sapore A la Carte Restaurant (Paid) (Indian Cuisine); Yamas A la Carte Restaurant (Paid) (Greek Cuisine)
24 Hours 7/24 Cullinan Bistro Ala carte Restaurant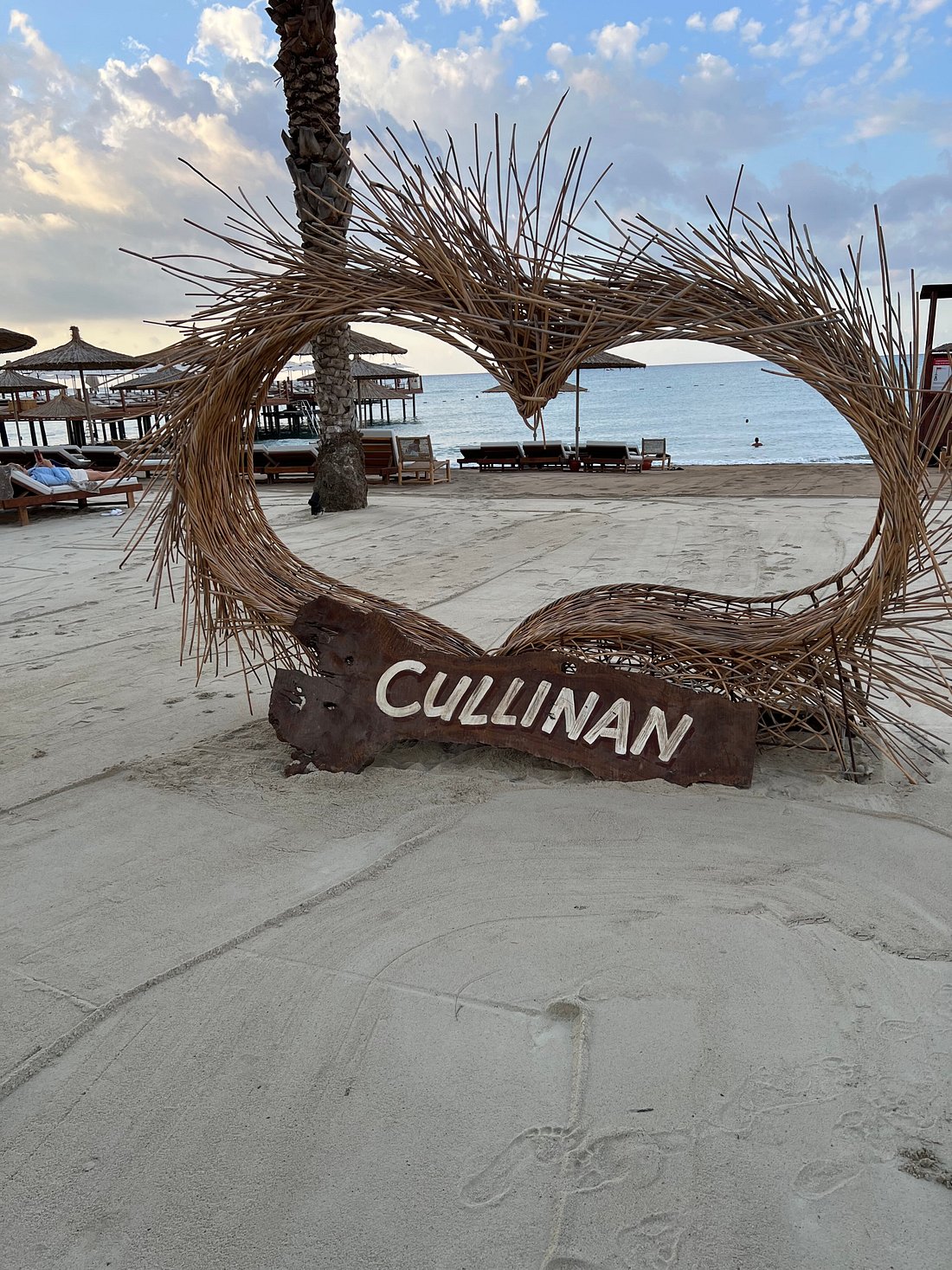 Welcome and Farewell
Chocolate covered strawberries and macarons
Cold or hot towel (depending on the season)
By Guest Assist (At the entrance to the hotel)
24 hour food service
Free internet Wi-Fi
Water and vehicle smell on the way out of the hotel
Valet service
seasonal cold drinks
fresh juice
Being escorted to the room by Guest Assist
24-hour beverage service
Locker and preparation room for early check-in and late check-out
Guest Assistant service in Turkish, English, Russian, German
Bellboy Luggage transport service
Sparkling wine
Upupa Kids Club registration desk in the lobby for families with children
24 hour Guest Assist service
Fruit and wine in the room on the day of arrival
Car wash (on request)
Luggage Disinfection
Private Helicopter Transfer
Take advantage of our private helicopter service with special privileges before and after your flight.
Equipped with the latest technologies, our Italian AgustaWestland AW109 E model VIP Helicopter offers a safe and comfortable journey with its two experienced pilots and full autopilot feature. It has a capacity of 6 passengers and cruises with its maximum capacity designed during the summer months.
Discover the beauty of the Mediterranean from the sky. During the flight you will enjoy aerial views of the Mediterranean Riviera, home to numerous civilizations. Famous ancient settlements such as Perge, Aspendos, Patara, Arycanda, Limyra, Myra, Olympos, Phaselis, Side, Sillyon, Termessos and other landmarks such as Alanya Castle, Kaleici, Kaputaş Beach, Olympos Beach and Kekova will be listed below.
COMMENT
Every detail in the hotel has been thought out to the smallest detail. Everything used is very high quality, the environment is beautiful, everything is fine except that there are almost no Turkish guests. Employees are almost racing against time to please you and they are all very friendly. If you have planned a holiday that makes you feel special, definitely cullinan!