Kirman Leodikya Resort, which prioritizes comfort and entertainment on holiday, provides service in Alanya Okurcalar. Standing out with its seafront location, the property has an Ultra All Inclusive accommodation concept. Welcoming its guests with 290 rooms, the property offers facilities to meet the needs of its guests in all rooms. Located in Karaburun, the facility is 23 km from Manavgat centre, 25 km from Side centre, 33 km from Alanya centre, 90 km from Antalya Airport and 100 km from Antalya city centre.
Located in Karaburun Bay, guests staying at the property can dive into the clear waters of the Mediterranean and enjoy the sun and swimming. Offering a peaceful atmosphere surrounded by greenery, entertainment also comes to the fore. The facility has indoor and outdoor pools, as well as a pool with slides.
A feast of taste awaits its guests in the restaurants and bars of the property, which offers privileged service in every area. It is possible to taste delicacies from Turkish and world cuisines here. If they wish, guests can have good times in the SPA area of ​​the facility. Children can enjoy the fun in the mini club.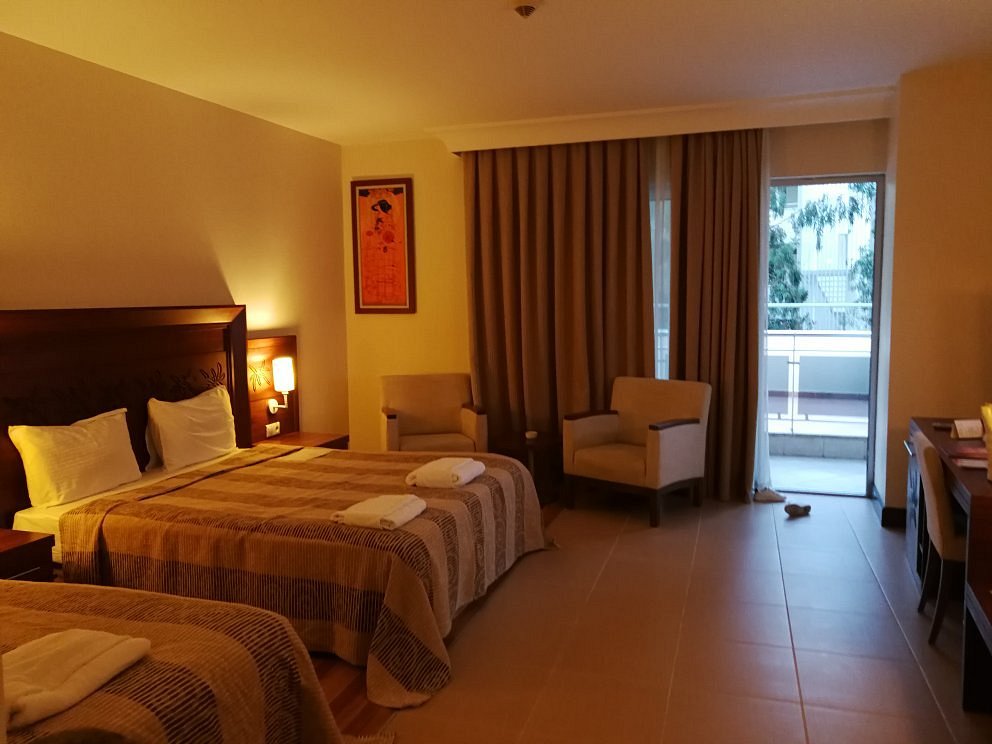 ROOM
Family rooms are 40 m² in size. The rooms have a double bed and two single beds.
WC
Shower
Satellite Broadcast
2 Rooms with Interconnecting Door
LCD TV
Balcony
Laminate Covered Floor
Central Heating and Cooling System (depending on weather conditions)
Till
Mini bar
Wireless Internet
Hair dryer
Telephone*
Features marked with * are paid.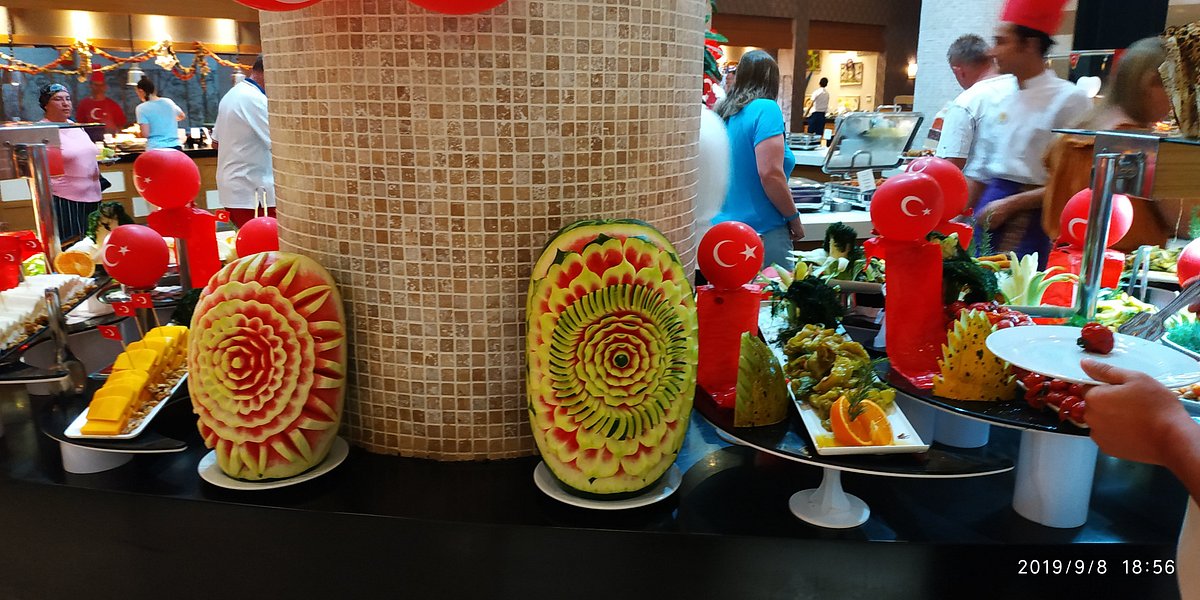 EATING AND DRINKING
Breakfast, lunch and dinner buffet meals are free. Local alcoholic, non-alcoholic and some foreign drinks within the brands determined by the facility are free of charge for 24 hours. A la carte restaurants with reservation and free once during the stay. Freshly squeezed fruit juice buffet (during breakfast) is free. Minibar is replenished daily with beer, water and soft drinks, chocolate and chips.
All buffets have breakfast, lunch and dinner options suitable for vegan guests.
There is a gluten-free food buffet and special buffets for diabetics in the facility. In case of consultation with the guest relations of the facility, assistance is provided in the preparation of special foods suitable for the needs of the guests.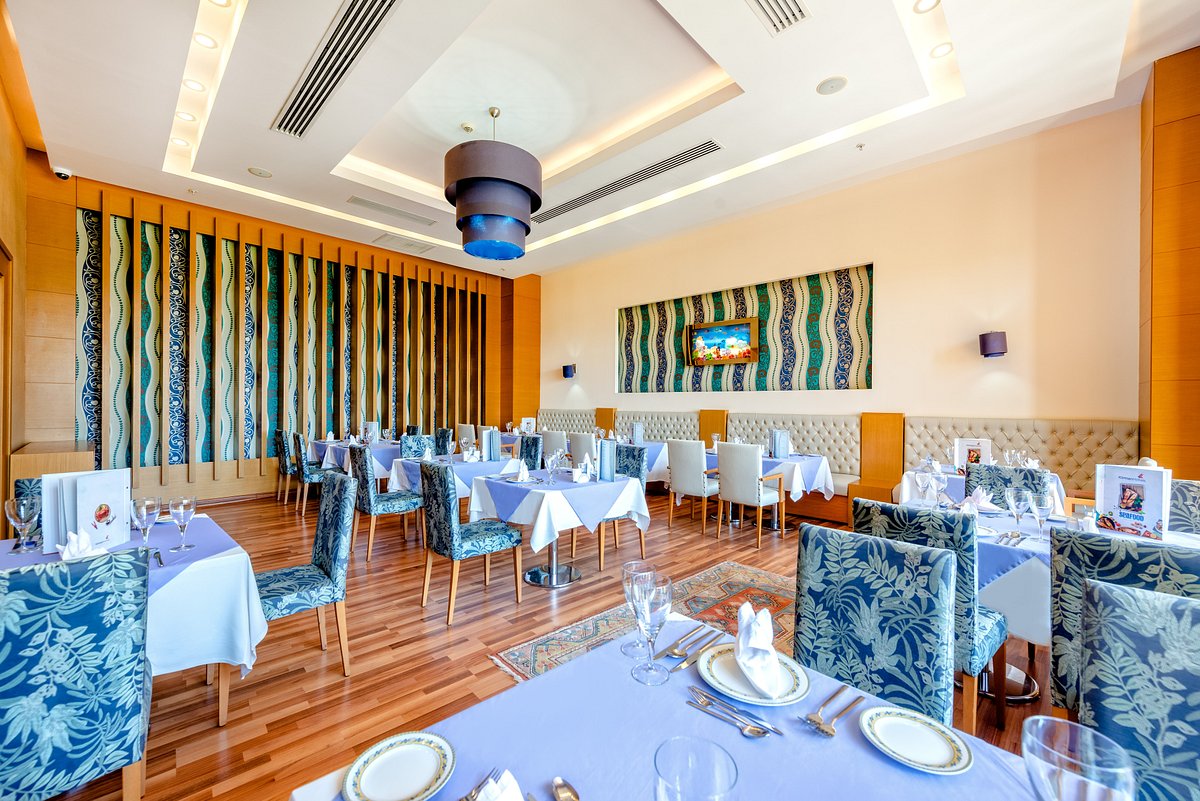 Restaurants
Asian A la Carte Restaurant
Mediterranean A la Carte Restaurant
Ottoman A la Carte Restaurant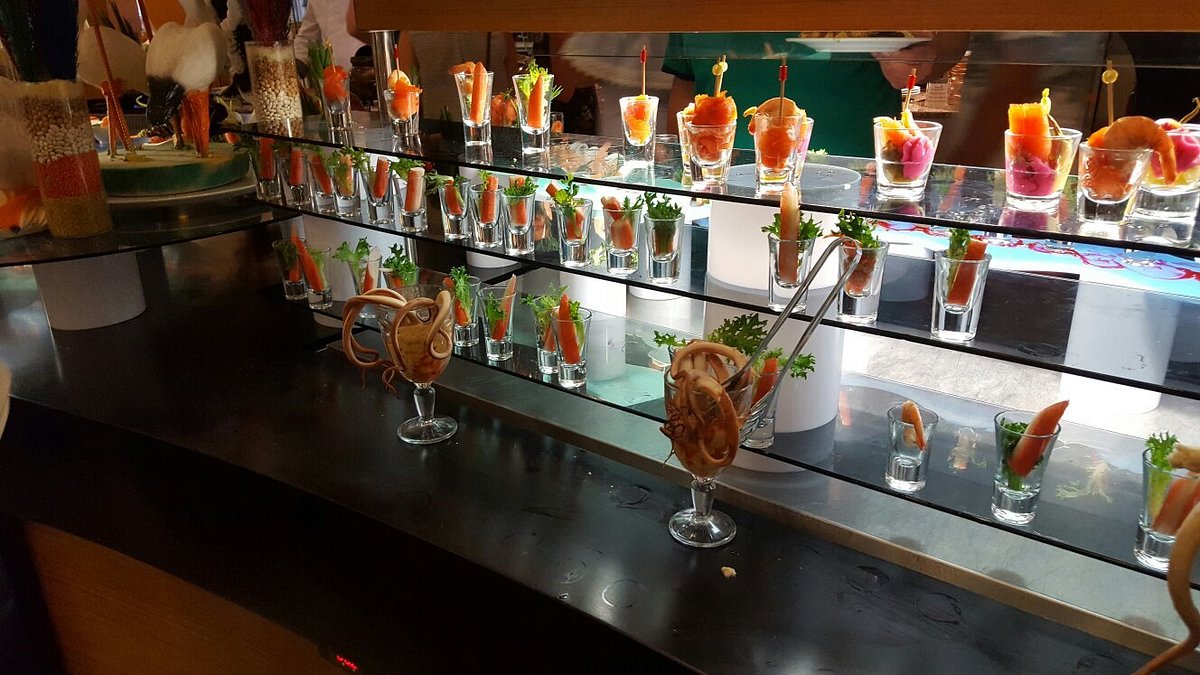 SERVİCE HOURS
07.00-10.00 Breakfast
10.00-10.30 Late Breakfast
10.00-18.30 Mini Patisserie
10.00-18.00 Ice Cream Corner
10.30-14.30 Sunday Brunch (Only Sundays)
12.00-16.00 Pancakes
12.00-14.30 Lunch (Food Court Snack Restaurant)
12.00-13.00 Lunch (Kids Club)
12.30-14.30 Lunch (Main Restaurant)
14.30-16.00 Late Lunch (Food Court Snack Restaurant)
18.30-21.00 Dinner
18.30-21.00 Children's Dinner and Baby Corner
19.00-21.00 A la Carte Restaurants
21.00-02.00 Mini open buffet dinner
02.00-07.00 Continental Night Breakfast
24 Hour Baby Corner (Main Restaurant)
24 Hours Room Service (Paid)
bars;
Lobby Bar 10.00-00.00
Pool Bar 10.00-00.00
Beach Bar 10.00-00.00
Snack Bar 12.00-16.00
Disco Bar 23.00-02.00
Pub Bar Open 24 Hours
Restaurant Service Bar at Meal Hours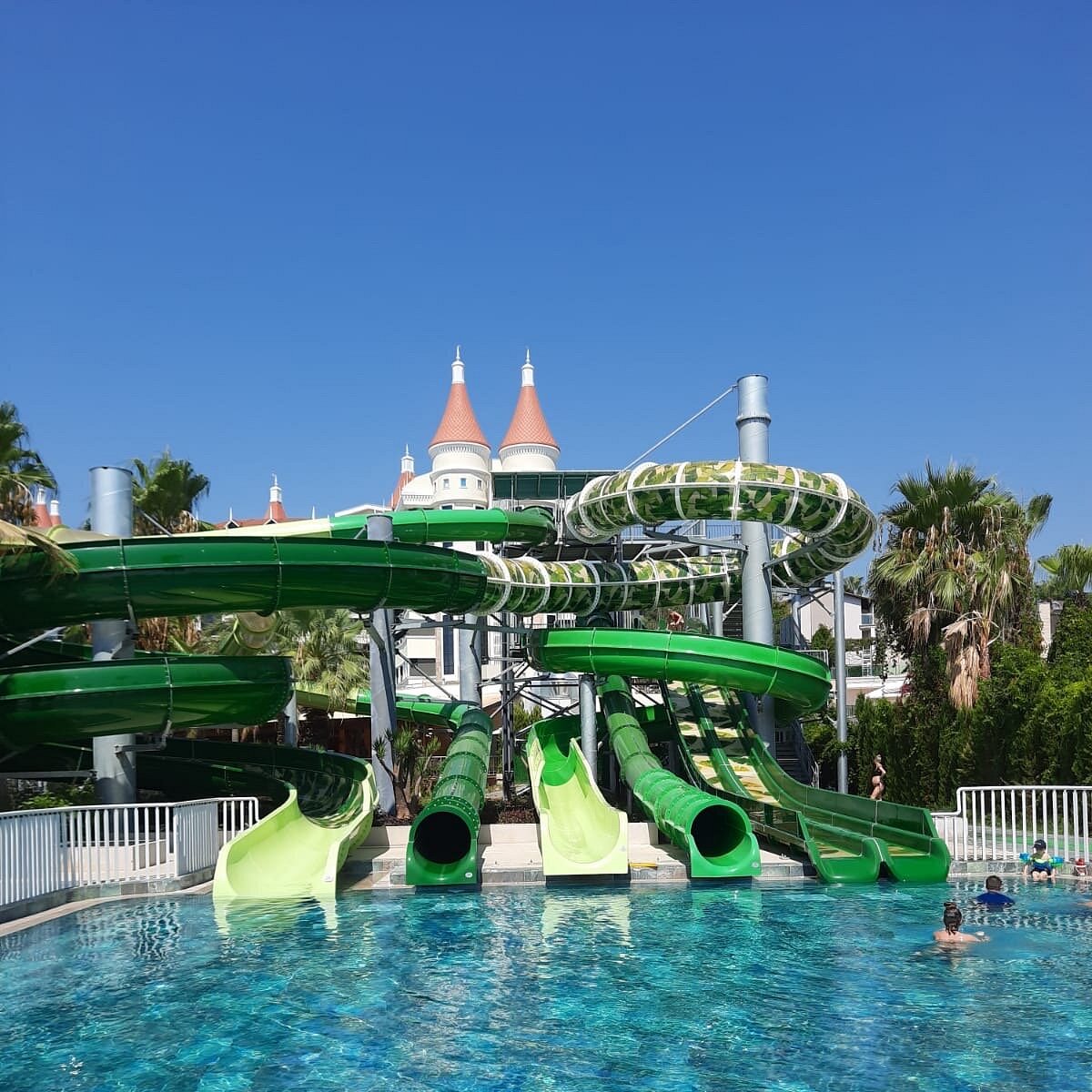 Beach
Located at the seafront, the facility has a 200 m long sand-pebble mixed private beach. Sunbeds, umbrellas and mattresses on the beach are free of charge.
Sport
Various daytime activities, pool and garden parties, fruit festivals, breakfast festivals, children's festivals, special gala shows, live music, dance evenings and evening shows at the amphitheater are held every day.
Fitness gym, water polo, water gymnastics, shot put, darts, table tennis, beach volleyball, street basketball, archery field, aqua combat, water basketball, mini football, yoga, pulling ropes, trampoline, plates balls, aerobics, step- aerobics, zumba dance, dance courses, boxing bag, weight equipment, weight balls, kango jumping, cross fit rope are available.
KIDS / BABY
Mini club is in the common use of Arycanda and Leodikya hotels. There is a special welcome and registration reception for guests aged 4-12, movie theater, sleeping room, music room, costume room, playground, playstation room, children's kitchen, mini service area, beverage and baby food area, mini disco and various children's animations. . The mini club is open between 10.00-13.00 and 14.30-17.00.
Kirman Signature Baby Star;
Our little guests will be given a toy bag at the hotel entrance. Our families who will come with their babies can benefit from the Kirman Baby Star package free of charge, upon request. (Baby lap, diaper changing sponge, baby bathtub, potty/baby toilet seat cover, baby shampoo, baby washcloth, baby bib, baby body lotion, bottle warmer and wet wipes.) In addition, our families choose Aptamil 1&2, Bebelac, Bebelac banana pudding, They can provide our Gold Rice Pudding, Gold Apple & Pear Puree, Gold supplementary food, banana milk and strawberry milk products free of charge.
Kırman Signature Kids Chef;
For our little guests between the ages of 0-4, food prepared by special personnel under the control of food engineers is served between 08.00 and 21.00, in line with their parents' requests.
Kırman Signature Fun Club;
Our guests between the ages of 13 and 16 can use the billiards, Playstation, Xbox, table football and computer game room free of charge between 12:00 and 22:00. Reservations may be required for activities.
Children under the age of 12 must be under parental supervision.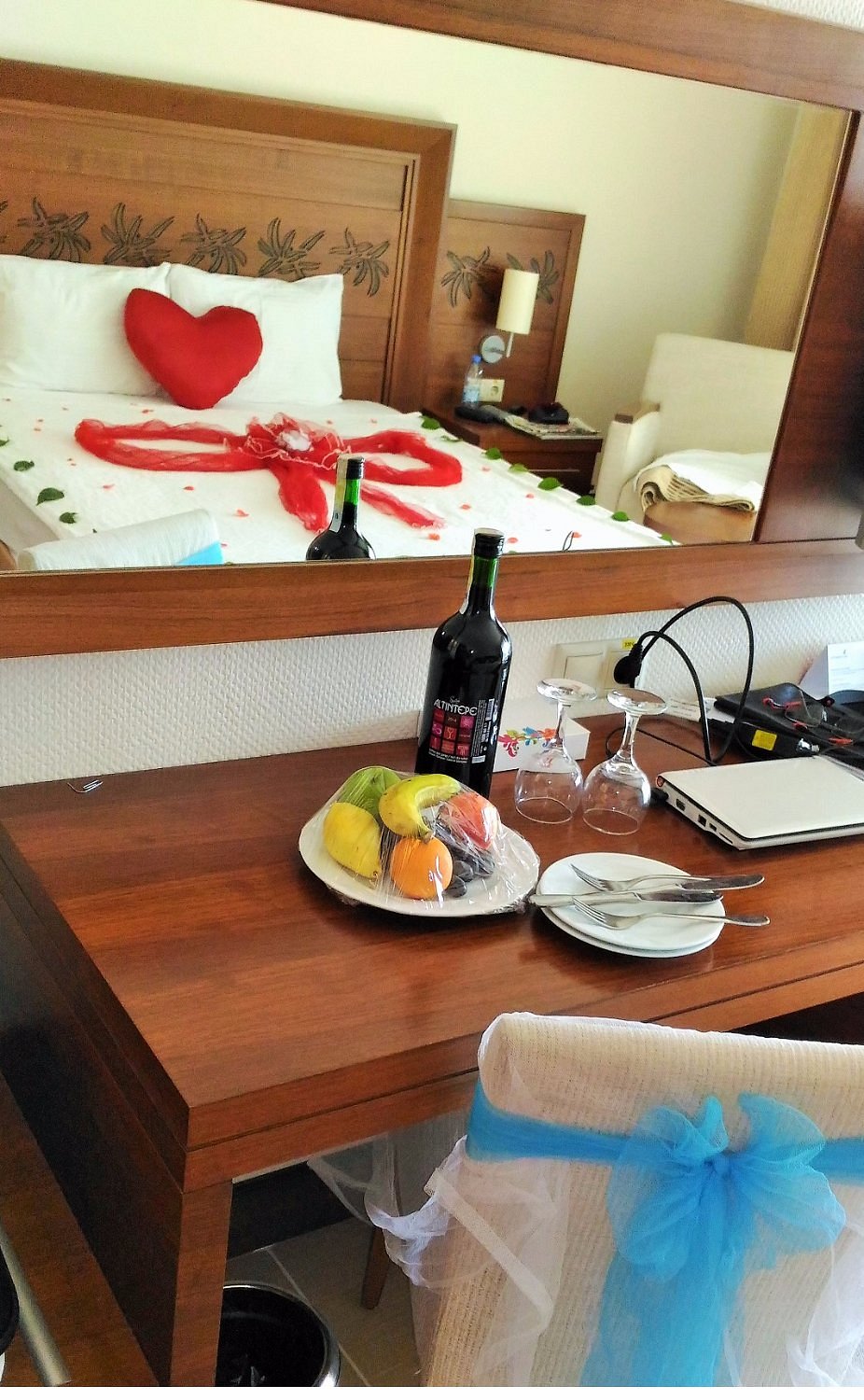 Honeymoon
Room decoration, special bed linen and decor on the arrival day
Complimentary fruit basket and wine
One day free breakfast and heart cake service to the room upon the request of the guest
Free dinner at the a la carte restaurant (with prior reservation)
In case of availability, the room is upgraded to a higher room.
SPA & WELLNESS
In the SPA and wellness section of the facility, there are facilities such as sauna, Turkish bath and massage services.