Susesi Luxury Resort promises more than a holiday with its seafront location and all-inclusive concept! Located in Antalya Belek, Susesi Luxury Resort Hotel offers an unforgettable experience in the magnificent atmosphere of the Mediterranean, while combining luxury with aesthetics with its villa type rooms.
The facility acts with the mentality of "Every work done with passion pays off". At the beginning of each new day, it is prepared to provide our guests with perfect services, and every service is tried to be remembered.
Special request service applications: In line with the requests of the guests, they can benefit from the following services for a fee. • SPA center products and services, • Golf Organizations, • Fitness trainer, • External phone calls, • Laundry and Dry cleaning service, • Photography services, • All products and services to be procured from stores
Meeting halls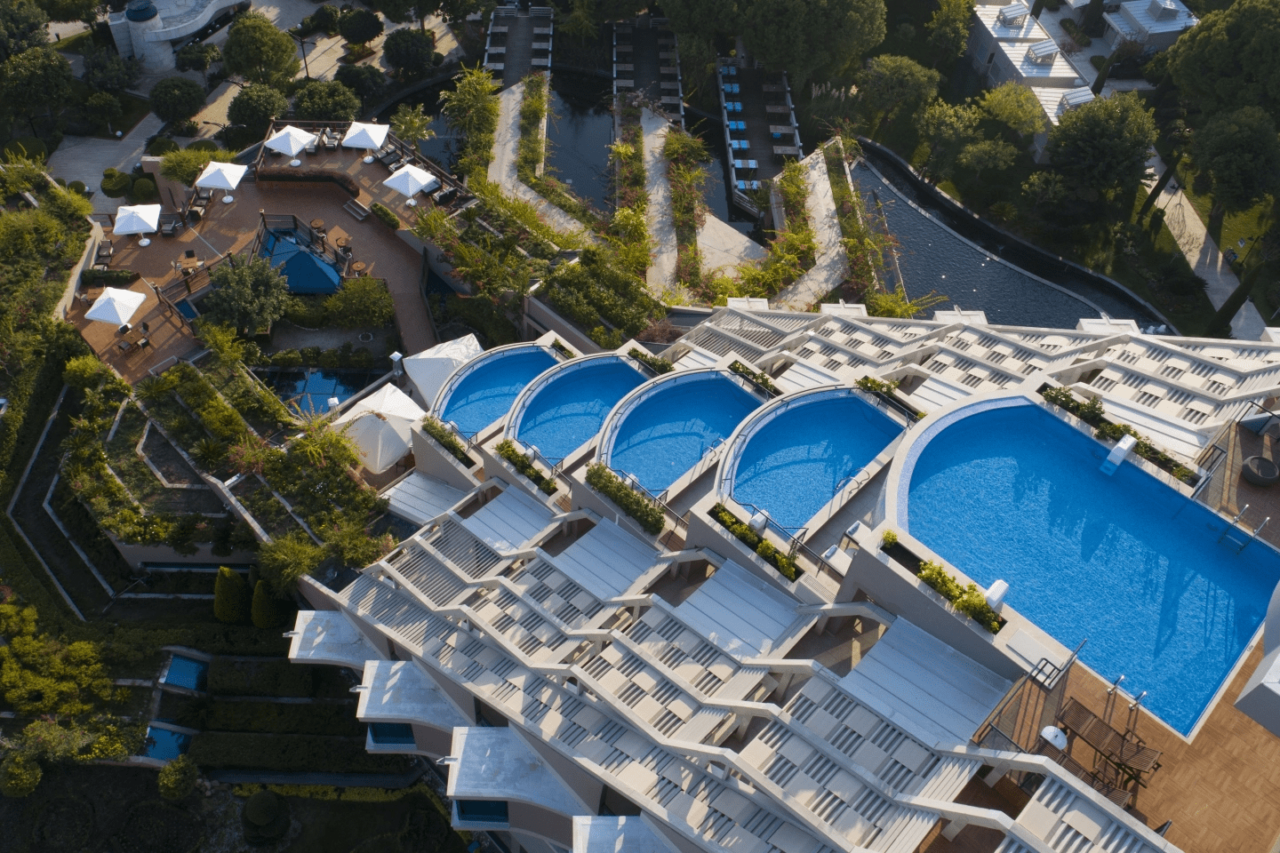 Our 6600 m² congress center, built separately from the hotel building, is at your service with a total of 17 meeting rooms of different sizes, the largest of which is the Istanbul Hall of 1800 m², 8.20 m high and can be divided into 3 parts.
Privileges of our congress center:
• Foyer with 3600 m² of daylight • Direct access from meeting rooms and foyer area to rooms, main restaurant, lobby and exterior areas • Accessibility from upper foyer area to lower foyer area by escalator, elevator, revolving road and stairs • Designed for group entrances private reception and check-in area • Service road providing direct access to the lounge and foyer area • Passenger car and minibus access to the Istanbul Hall and foyer area for vehicle launches • Special kitchen and bar section used for banquet activities in the foyer area of ​​Istanbul Hall and congress center • Technical equipment support upon request
ROOM
Each room at this hotel has satellite television, a personal safe and a sofa. All of these rooms are equipped with a hairdryer, bathrobes and towels.
Air-conditioned room with a satellite TV and balcony.
Bed type: 1 king size bed
View: Garden view
safety deposit box
slippers
sitting area
wardrobe/cabinet
soundproof windows
Electronic card key
smoke detectors
Telephone
Upper floors accessible by stairs only
trash cans
Fire extinguisher
Lockers
pool towel
Bathroom
Mobile shower suitable for the disabled
Hair dryer
Susesi Luxury Resort:
Dressing gown
Towels
Free toiletries
bidet
shower cap
Toilet
Cleaning products
body soap
Hair conditioner
Shampoo
Toothbrush
Toilet paper
baby cot
Feather-free pillows
Sheet
sofa bed
Mini bar
Tea/coffee maker
Bottled water
flat screen tv
socket next to the bed
wake up service
Facility Activities
Susesi Luxury Resort:
Basketball
Billiards *
Darts
Ping pong
Tennis Lighting *
Bowling *
disco
banana *
Sea Bike *
canoe *
Tennis *
Live Music (On Certain Days of the Week)
fitness
Beach Volleyball
Golf *
Kinder garden
Water sports *
Football
Pilates
Animation
Mini Club
Zumba
Mini Disco
Kids Animation
Features marked with * are paid.
Pool and Beach
Susesi Luxury Resort:
Working hours of the pools are between 08:00 and 20:00.
Palm pool and terrace pool opening dates may vary according to hotel density and weather conditions. There is a total water area of ​​12,516 m³ in our hotel, including private areas, provided that it is 9948 m³ in general areas. There is a canal pool between the palm pool and the Terrace Houses pool
Aquapark has 6 slides; working hours are 10.00 – 12.00 / 14.00 – 16.00. Not suitable for parentless use by children under 10 years old.
Waterslide
Sunbed
Indoor pool
Kiddie pool
Umbrella
Private Beach
Dock
Beach towel
Blue Flag Beach
Free Food and Beverage at the Beach
Indoor Children's Pool
Main Pool
Lake House Pool
Indoor Semi-Olympic Pool
6 Band Aquapark
Features marked with * are paid.
Honeymoon
Susesi Luxury Resort:
The honeymoon concept is valid for 1 year from the date of marriage.
Fruit Basket Serving in the Room
1 Time Free A La Carte Restaurant Usage Right
Priority Reservation in A La Carte Restaurants
Breakfast in the Room (1 Time) *
Early check-in, late check-out upon availability
Dessert Plate in the Room
Custom Duvet Cover Set
Special Welcome
20% Discount at the Spa Center
Turn Down Service (On Request)
Features marked with * are paid.
Covid-19 Measures
facility
"Safe Tourism Certificate"
exists. In addition to Covid – 19 measures; In order to minimize the risk of transmission, the guests who have had Covid-19 have the date of the disease and the Covid-19 negative test 14 days before or earlier, which is the period specified as the incubation period of the virus (due to the fact that the scientific data and information on the infection are not finalized). The result is requested from the guests who will stay at the hotel during check-in. Vehicles will be disinfected at each transfer. There will be cologne and hand disinfectant with 70% alcohol content in the vehicle. The daily temperature of the transfer officers (driver or accompanying personnel) will be measured. The driver and accompanying personnel will take protective measures such as masks and gloves. Contact and conversation with the passenger will be kept to a minimum.
Covid-19 Measures
Luggage will be labeled as being disinfected. The body temperature of the guests will be measured with a non-contact thermometer at the reception entrance. Our guests whose body temperature is above 38 °C will be taken to the predetermined isolation room and directed to the health institution. Masks will be given to all our guests who request masks at the entrance to the facility. During check-in, the social distance rule will be followed. A cologne will be served to the guest during the welcome. At the entrance of the reception, there will be footed hand contactless disinfectant and disinfectant hygiene mat. A distance of at least 1.5 m between the tables in the reception area will be left – at least 60 cm between the chairs. Our guests will be taken to an empty, ventilated and sterilized room at intervals of 12 hours.
Concept Features
Susesi Luxury Resort:
Ultra All Inclusive Concept Features
Breakfast (between 07:00 and 11:00)
Lunch (between 12:30 and 14:30)
Dinner (between 19:00 and 21:30)
Night Buffet (between 00:00 and 04:00)
Village Breakfast (between 09:00 and 11:00) (Reservation – Spread Breakfast)
Patisserie Service (between 16:00 and 20:00)
Sandwich Service (between 21:30 and 00:00)
Sandal Food Corner Snack Menu (between 13:00 and 18:00)
Coffee Break (between 16:00 and 18:00)
Takatuka Snack Menu (between 12:00 and 16:00)
Pancake Service (between 11:00 and 16:00) (Self Service)

A'la Carte Restaurants;

Tumanna A'la Carte Restaurant (between 19:00 and 22:30) (Paid)
Cassia A'la Carte Restaurant (between 19:00 and 22:30) (Paid) (Far East Cuisine: It offers the tastes of Chinese and Japanese cuisine with a fine-dining concept)
Tuğra A'la Carte Restaurant (between 19:00 and 22:30) (Free of charge) (Turkish Cuisine: It is served with meat varieties cooked at the beginning of the stove and appetizers)
Paprika A'la Carte Restaurant (between 19:00 and 22:30) (Paid) (Italian Cuisine: The restaurant, where traditional tastes of Italian cuisine are served, serves with a fine-dining concept)
Ada A'la Carte Restaurant (between 19:00 and 22:30)(Free)(Mexican Cuisine: Internationally famous tastes of Mexican cuisine are served with a fine-dining concept)
Alesta A'la Carte Restaurant (between 19:00 and 22:30) (Paid) (Fish and Seafood: Healthy and delicious seafood is served against the magnificent Mediterranean view)
For A'la Carte reservations, reservations are taken until 16:00 on the same day at the latest. One of the free A'la Carte restaurants can be used once a week. All A'la Carte restaurants are open 6 days a week. Dress Code is available as it serves in the Fine Dining concept. For this reason, it is necessary to choose clothes suitable for the A'la Carte restaurant.
La Calisse SPA center was established on an area of ​​4500 m². It consists of 2 parts, paid and free. There are 2 heated indoor pools, Turkish bath, 2 saunas, steam room, relaxation room, vitamin bar and fitness center in the free area. There are 4 VIP rooms, 3 skin and body care rooms, 2 Ayurvedic massage rooms, 3 Balinese massage rooms, 2 Thai massage rooms, 12 standard massage rooms, VIP hammam and VIP relaxation room in the paid area. FREE BATH, SAUNA WILL BE CLOSED UNTIL THE COVID-19 OUTPUT IS END. A LIMITED GUEST WILL BE ACCEPTED IN ACCORDANCE WITH THE SOCIAL DISTANCE RULES TO THE INDOOR POOL, NO ADDITIONAL GUESTS WILL BE ACCEPTED WHEN THE CAPACITY IS FULL.
8 different special concepts are applied in the paid area: TURKISH BATH concept BALI concept THAI concept JAPANESE concept INDIA concept ROYAL concept FACE AND BODY CARE concept (products of Ericson, Mr. Barth companies) MACHINE CARE concept (LPG, CACI, OXYGEN machines) In 4 VIP rooms There is a private hammam, sauna, steam room and jacuzzi. La Calisse SPA is open between 09:00 and 20:00.